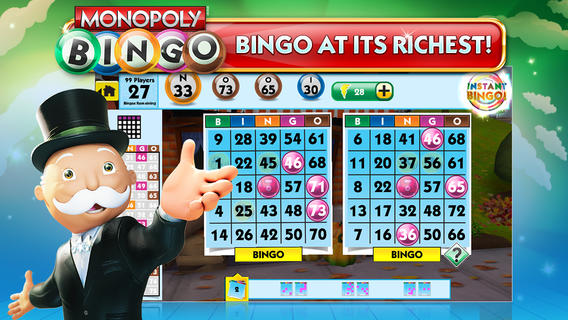 EA along with Hasbro has today announced two new and distinct Monopoly-branded titles for iOS and Android devices: Monopoly Bingo and Monopoly Slots – both are free to download right now from the Apple App and Google Play stores respectively.
Chip Lange, Senior Vice President and General Manager at EA, said;
We've taken two of the most-time tested game mechanics‹bingo and slots and paired them with Monopoly, the world's favourite game brand, to create two unique mobile experiences that will give fans a simple and easy way to collect their favourite properties, tokens and other aspects of the Monopoly world they've come to love over the years. Gamers will feel right at home with these Monopoly titles‹big risk and huge rewards await as they build their property empires, collect tokens, build hotels, and spin and bingo their way through the Monopoly world that everyone knows and loves.
Monopoly Bingo lets players Bingo their way to Boardwalk and watch their favourite Monopoly properties come to life as they progress through the Monopoly neighbourhood. Bingo fanatics can keep the bingo action coming by playing up to 16 cards at a time on tablets or up to 8 cards at a time on their phones, increasing the chance of mini-game rewards and more through "Chance" scratcher cards and the "Lucky Number" bonus. Virtual rewards including properties, tokens, and house and hotel upgrades can be won, and the "Fall Feast" room – which is only available for a limited time only – comes with exclusive seasonal-themed collection items and tokens.
Monopoly Slots will challenge fans to spin and win by playing through a variety of Monopoly-themed slot machines and celebrate in-game payouts while Mr. Monopoly himself cheers them on – it's his casino after all, you're just making him more moolah! Greedy old man… Players can double their luck with Twin 3×3's or test their luck on another level with 3×5 slots. Monopoly Slots will also feature free, unlockable slot themes, big bonuses, and mini-games that allows users a"Chance" to increase their odds of hitting the jackpot and striking big. Out now in select territories, Monopoly Slots will roll out globally over the coming weeks.