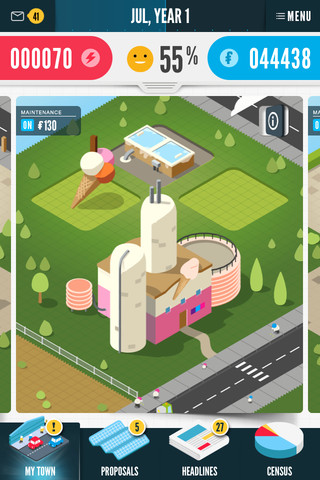 Many Australian residents probably believe their local suburb or city could be run better by a random person off the street. Well Run That Town gives you the chance to be that random person!
The Australian Bureau of Statistics (ABS) has just launched their own app called Run That Town. The game allows you to run your very own virtual version of ANY city in Australia, all you need to know is the postcode. While games have let you create your own city before, Run That Town is unique in that it uses genuine 2011 Australia Census Data to determine who populates certain cities and what they prefer so that you have to cater to their needs. Information such as gender, age, employment, education, income and more are all available to you.
For those that don't know, the Census is basically a massive questionnaire that all Australian residents are made to answer each year for the sake of collecting data. It's good to know that data is going to good use!
Key features include:
Play with any Australian postal area
Every game is created using real Census data, making it unique to your neighbourhood
Choose from hundreds of projects for your town – from the practical to the preposterous
Consult the locals to make popular decisions
Read about your exploits in the infamous local paper
One key feature not mentioned by the ABS is the game is narrated by popular Australian Comedian and Actor Shaun Micallef and features loads of funny dialogue.
If you would like to take control of your own city, Run That Town is available free on the App Store for any Apple device running iOS 4.3 and up. You can view a trailer for the game below.