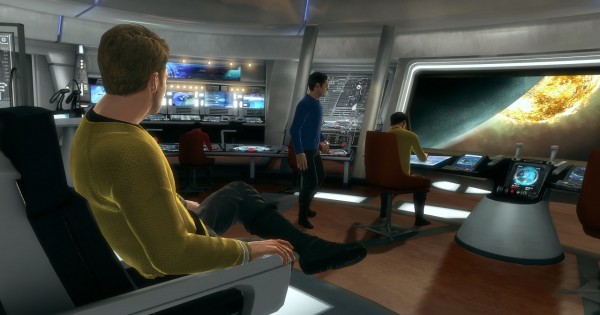 It's safe to say that there have been quite a few games based on Star Trek. However, the newest attempt at bringing the TV and movie sensation, Star Trek: The Video Game from developer Digital Extremes and publisher Namco Bandai, is trying to be the most authentic Star Trek video game experience yet. But what can they do to ensure that they can keep it authentic?
In the latest video for the game, Senior Vice President of Paramount Pictures Brian Miller explains that they focused on three main areas of authenticity; visuals, music, and voice acting. In terms of visual, ensuring that every aspect of the in-game assets reflected the big screen version from the bridge of the Enterprise to the halls ways throughout the ship.
While for the music, instead of just reusing music from the movies, they had the same orchestra write and perform new pieces for use in the game. Matching the quality, without suffering from having to shoehorn existing music to fit. While for voice acting, they did nothing less than record from the cast of the movie itself, even going to where the actors were instead of bringing them all in.
Players can check out the Making of Video for Star Trek: The Video Game embedded below, but for a better taste of what is in store before the game releases April 23rd for Xbox 360, PlayStation 3, and PC players can also read up on Capsule Computers Hands On Preview HERE.