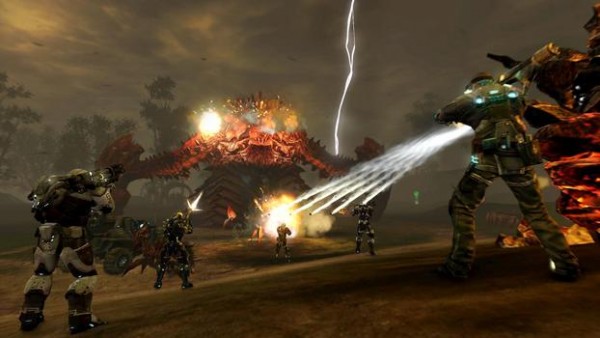 I keep writing these articles, waiting for spring to start in earnest. What do I get for two days in a row? Hail. That's right. Canada is flinging around ice in the middle of spring.
GamersGate is running a huge Paradox Interactive weekend sale. Every major Paradox Interactive title and DLC is anywhere from 50 to 75% off. Most of the sales are at 50% off, but each day knocks one franchise title down to 75% off. At the time of writing, the King Arthur and all its relevant DLC are 75% off. Additionally, the Silent Hunter series of submarine sims are on sale for 75% off.
Steam is running several sales this weekend. Cult favourite Farming Simulator 2013 is on sale for 50% off. I never could get into the series, but there are some serious fans of the game out there. Dishonored is at its lowest price this weekend for 50% off. Dishonored is the spiritual successor to Thief and is an excellent game. Be sure to read our review on Dishonored if you need convincing. Natural Selection II is a hidden sale this weekend at 50% off. It is a pretty good price for the game. It's tremendously good fun when a team actually puts in the effort to work together.  Steam's Weeklong Deals are PAM: Post Apocalyptic Mayhem, Fireburst, Ducati World Championship, DCS: Blackshark and Spectraball.
Greenman Gaming has a bunch of new coupon codes for use this weekend. Defiance and the Season Pass is on sale for 30% off with the coupon GMG30-LLAKQ-WPPQZ. I've been pouring all my free time onto Defiance and I am loving the game. Its been a rocky launch, but its a fantastic game with great potential. If you're on the fence, be sure to read our review of Defiance.  Buyers can snag 25% off Company of Heroes 2 with GMG25-COMPA-NYOFH. Of course, GMG's now legendary 20% off most titles coupon is also running. So be sure to try GMG20-GGN5D-FC3NA on all your purchases this weekend.
Greenman Gaming is running three different themed sales this weekend. Meridian 4 titles are 75% off. Racing games on sale for up to 75% off. Finally, titles from the publisher Nordic are also 75% off. Most of the titles are pretty forgettable, but racing fans should check out the highly regarded Dirt series for 66% off. There are some titles that are on sale that do not belong to any of the three themed sales. The FEAR series is on sale for 50% off. Although they are excellent games, I recommend skipping over them as all three games have gone down to 75% in the past. Dishonored is 45% off and the 20% off coupon does not apply here. Steam has the better offer for Dishonored this week.
Brazilian site Nuuvem has a 2 for 20 Brazilian Real deal going on. With the exchange, it roughly works out to $10.00 USD. Buyers can choose Assassin's Creed Revelations, Bulletstorm, Blades of Time, Omerta: City of Gangsterss, Stay Dead, Sine Mora, Alpha Protocol, Binary Domain, Deep Black, and I Am Alive. Most of the games are a little older, but if you stick to games at $20.00 or more, you are getting at least 75% off which is a good deal. Out of the available games, I personally recommend Assassin's Creed Revelations and Bulletstorm. Revelations continues the tradition of high quality Assassin's Creed games and Bulletstorm is just good crude fun.
Get Games has Farcry 3 Blood Dragon on sale for 15% off. This isn't as good as Gamefly's deal, but if you can't purchase your copy through Gamefly for what ever reason, this is a good alternative. Assassin's Creed III, including the Deluxe Edition, the Battle Hardened Pack, and the Season Pass, are on sale for 50% off this weekend. This is one of the cheapest prices for Assassin's Creed 3 at the moment. The Sonic Mega Bundle which includes all of the Sonic the Hedgehog games available on Steam is 75% off. Company of Heroes is 22% off, but skip this in favour for Greenman Gaming's 25% coupon if you can.
GameFly is running a sale on indie games this weekend. You really can't go wrong with any of the titles, but I highly recommend picking up Hotline Miami, Sine Mora, Torchlight II, and Dungeon Defenders. Gamefly is still running their 20% off coupon, GFDAPR20. This coupon works for Far Cry 3 Blood Dragon, which brings the game down to its cheapest price yet.