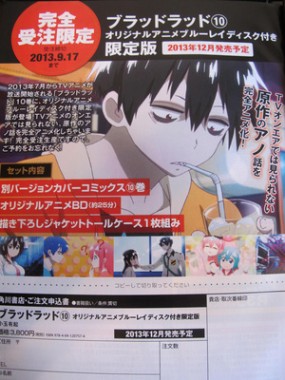 Coming up is the 10th limited-edition volume of the manga "Blood Lad' by artist Yuki Kodama, this limited-edition will bundle the latest volume of the manga and a blu-ray disc that will feature an episode based off of "that" manga chapter. The episode that comes with it will be exclusive to that bundle seeing as it will NOT be shown in the upcoming Blood Lad television series.  This is a limited purchase, pre-orders are only open until the 17th of September.
Ok, so, if you don't know the plot but still show an interest for this let me break it down a bit for you: We have Staz, he's a vampire and a boss of a section in the Demon World. Cool. Now Staz doesn't care much for human blood, he's actually more interested, let's say obsessed, with Japanese Culture. Enter Yanagi Fuyumi  a Japanese teen who somehow wanders into the Demon World, Staz is pretty happy about this. He goes to meet her but is interrupted by a bit of a scuffle over turf and poor Fuyumi is killed and begins wandering around as a ghost. Staz, being disappointed, promises that he will find a way to resurrect her and that's where our adventure starts.
If you're a fan go and check out the "Blood Lad" Summer Anime Promo trailer here.