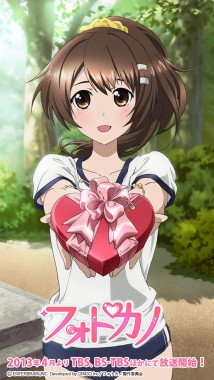 Madhouse have released a promotional poster for their upcoming anime series Photo Kano. The poster which can be seen to the right features the series' main female protagonist Haruka Niimi.
Photo Kano which is based on a PS Vita Gal Game of the same name follows Maeda Kazuya as he decides to photograph several of the girls in his school which in turn causes him to become to object of their affection as you would expect from a harem anime.
What do you think of the upcoming Madhouse anime Photo Kano? Let us know what you think of it in the comments section below.