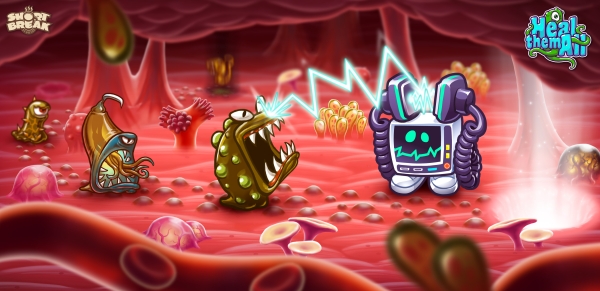 iOS developer Shortbreak Studios has just released their newest game, Heal Them All.  With a bright and colorful cartoon art style, You'll fend off wave after wave of germs and viruses bent on making their host ill as they try to advance to the vital organs of the children you're defending.
Developed in cooperation with the "Cape of Hope" foundation, every download of Heal Them All could help children in need.  The "Cape of Hope" foundation is building the Clinic of Pediatric Oncology, Haematology, and Bone Marrow Transplantation hospital in Wroclaw, Poland.
Game features include:
Three diverse campaigns with vicious germs to defeat and exciting battles to win
Special levels including medi-mines, power up frenzy and boss fights
Medical power-ups – from germ-slowing gel to a powerful surgical laser
Beautiful, hand-drawn graphics and energetic, 8 and 16-bit inspired music
Additional campaign and updates coming soon
You can check out Heal Them All here.  Be sure to check out the launch trailer below, give Heal Them All a look, and help children who sincerely need it in the process.