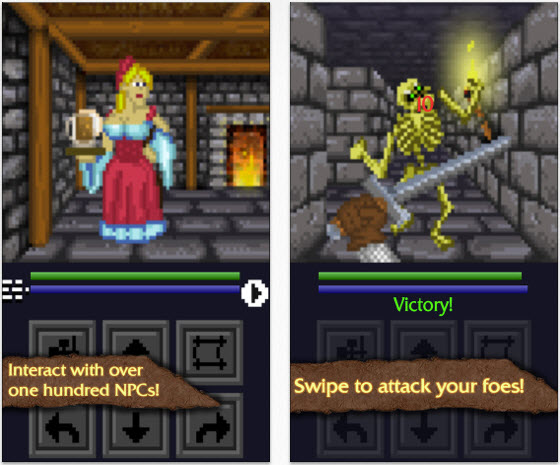 Welcome back for this week's iOS Game Suggestions. If you missed or are new to the suggestions, click on the link below and check what cool games you should be picking up for your iOS along with the introduction and disclaimer on how the suggestions work. (suggestions 1 has the disclaimer and how it all works)
MasterAbbott's iOS Game Suggestions
A great week on iTunes, as always it started slow and but ended with a bang! As always there certainly is a few must buy games this week in all departments, FREE, 99c and over 99c. This week i've suggested a total of 19 great quality titles. Make sure you check them all especially QuestLord, Finding Teddy, Relic Rush, Hackycat, Rock Runners, Real Racing 3, Beastie Bay, Hyperdimension Neptunia  just to name a few.
Break down below :
8 – FREE Games
7 – $0.99c Games
4 – Over $0.99c Games
As always for this week's suggestions are all new titles that you should take a look at and consider spending your hard earned iTunes cash / time on.  Well the Free games just below certainly should all be given a shot as they won't cost you anything!
For The Cheapskates – FREE GAMES
MASTERABBOTT'S FREE GAME PICK OF THE WEEK!

Hyperdimension Neptunia The App – Price : FREE – Publisher – NIS America (Hyperdimension Neptunia The App allows you to interact and customize characters from the Hyperdimension Neptunia video game series. The app will let you set calendar reminders and alarms to keep you on time. These reminders will come with original English voices not heard anywhere else! You can even take photos with the ladies from the Hyperdimension Neptunia series!) on iPad & iPhone. GET IT NOW FOR FREE

 
Beastie Bay – Price : FREE – Publisher –

Kairosoft

 (Washed ashore a desolate island and surrounded by savage beasts, can you thrive…or merely survive? Blaze trails into unknown territory…and then make it your own! Plant crops, build housing and power sources, and transform the island into your own personal paradise. As you progress, you'll be able to develop new gear and technology to take your adventure to the next level, including ways to travel to unexplored islands nearby!

) runs on iPad & iPhone.

GET IT NOW FOR FREE

 
Crystal Throne – Price : FREE – Publisher –

GREE Inc.

 (Crystal Throne is the perfect combination of Strategy, Action, and Role Playing. You can experience the pleasure of building your own kingdom and commanding an army to dominate the world. Team up with other players and venture into dungeons full of mysterious monsters and fabulous treasure. Do you have what it takes to sit upon the Crystal Throne?

) runs on iPad & iPhone.

GET IT NOW FOR FREE

 
Real Racing 3 – Price : FREE – Publisher –

Electronic Arts

 (Hyper-realistic. Pure fun. And FREE. Real Racing 3 sets a new standard for mobile racing games – it really must be experienced to be believed. Trailblazing new features include officially licensed tracks, an expanded 22-car grid, and over 45 meticulously detailed cars from makers like Porsche, Lamborghini, Dodge, Bugatti, and Audi. Plus, racing with friends gets kicked into another dimension with the reality-bending Time Shifted Multiplayer™ (TSM) technology.

) runs on iPad & iPhone.

GET IT NOW FOR FREE

 
Diamond Dash – Price : FREE – Publisher –

Wooga

 (60 action packed seconds to match as many colorful diamonds as possible. Enjoy this 5-star arcade experience as you unleash magical boosts and beat your friends' high scores in the Weekly Tournament. With over 95 million playing on Facebook and mobile, this exciting game has hit the top 10 in 100 countries. So let's get started!

) runs on iPad & iPhone.

GET IT NOW FOR FREE

 

Subway Rushers – Price : FREE – Publisher – Classic Games (Check it out our latest game release! Be able to explore your running strength! To see how far you may run in the forest? Player is required to jump, avoid over the obstacles. The further distances it will score towards ranking to compete. SOMETHING SIMPLE but you will enjoy every small detail within.) on iPad & iPhone. GET IT NOW FOR FREE

 
Celtic Tribes – Price : FREE – Publisher –

XYRALITY

 (Celtic Tribes is an epic strategy-building MMO in a Celtic setting. Dive into this enchanted and mysterious world now and prove yourself as a fearless Celtic tribe leader! Recruit a wild horde of slingers, axemen and other barbaric warriors to send them into battle and take over the villages of thousands of other players. Expand your small village into a settlement by using the mysterious power of magical artefacts and runes. Establish strategic clans with other players and exchange dearly sought after resources.

) runs on iPad & iPhone.

GET IT NOW FOR FREE

 

Frog Orbs – Price : FREE – Publisher – Ballpit Monster Studios (FROG ORBS is a fast-action game where players blast enemies to protect themselves and the powerful orbs that will help them on their quest. Benglings have invaded this once peaceful land. Nothing could stop them! That was until they took HIS flies! Now Bufo, the wizard apprentice, will blast the menace off to get them back and save the world while at it!) on iPhone & iPad. GET IT NOW FOR FREE
For The Bargain Hunters – 99c Games
 

Rock Runners – Price : $0.99 – Publisher – Chillingo (Can't stop the rock. Take control of an energetic, running, jumping, swinging runner in this hugely entertaining action platform game. Leap across puddles of radioactive goo, swing over gaps using your light-beam grapple, and zip through portals on your way to completing each stage.) runs on iPhone & iPad. BUY NOW

Hackycat – Price : $0.99 – Publisher – Kenneth Wong (Save really cute cats from exploding. By kicking them. Tap cats to bounce them in the air! If any cat hits the ground, it's game over. Choose your athlete and join the official Hackycat competition! Collect cheezburgers to unlock new cats, athletes and locations! Launch cats into space with the almighty Superkick. Use powerups and combos to achieve epic high scores!) runs on iPad & iPhone. BUY NOW

 

Redneck Revenge: A Zombie Roadtrip – Price : $0.99 – Publisher – Bulkypix (It's the end of another day for our good ol' Redneck. But just as he's starting to close the bar, strange customers start coming in through the door! Damned! Zombies! Grab your weapons and get ready to fend off these undead partygoers… Watch out for dentures, mad cows and other zombie abominations in this cartoon-style vertical shoot 'em up.) runs on iPhone & iPad. BUY NOW

 

Flick Champions Winter Sports – Price : $0.99 – Publisher – Chillingo (Take to the slopes, ice-rinks, and snow in this winter sports-themed edition of Flick Champions. Choose a nation to represent in six winter sports including Slalom, Ski Jumping, Ice Hockey and more. GO FOR GOLD. Pick a country and lead them to victory. Master the art of flicking to win the gold trophy in 18 challenging cup events. Alternatively, create your own Olympic playlists in Champ mode.) runs on iPhone & iPad. BUY NOW 

 
Relic Rush – Price : $0.99 – Publisher –

Crescent Moon Games

 (Relic Rush is an addictive adventure game. Use one touch controls to help our fearless hero navigate dangers as he collects the idols. Explore exotic locations like jungles and deserts as you race against the clock. Can you collect them all?) runs on iPhone & iPad.

BUY NOW

 

Bad Piggies – Price : $0.99 – Publisher – Rovio Entertainment (Create the ultimate flying/crawling/rolling/spinning/crashing device and pilot the pigs safely to the eggs! The Bad Piggies are after the eggs again — but as usual, nothing is going according to plan! Can you create the ultimate flying machine and steer them safely to their destination? Those tricky pigs have a few objects they can use, but they need your help to turn these into the perfect transportation!) runs on iPhone & iPad. BUY NOW 

 
Aces Of The Luftwaffe  – Price : $0.99 – Publisher –

HandyGames

 (The air war over Europe is in full swing. The Allies are facing wave after wave of Axis planes and panzers; guns blazing, bombs bursting, engines roaring! Show them what you're made of and destroy their military overlords in tough boss fights.) runs on iPhone & iPad.

BUY NOW
For The Millionaires – All games over $0.99
 

MasterAbbott's over 99c Pick Of The Week!

Quest Lord – Price : $1.99  – Publisher – Lava Level (A new turn-based Role Playing Game in the classic style of the legendary Computer Role Playing Games that defined the genre. Created by Eric Kinkead. In QuestLord you assume the role of a lone hero out to save the Shattered Realm from certain destruction!) runs on iPhone & iPad. BUY NOW

Finding Teddy – Price : $1.99  – Publisher – LookAtMyGame (A little girl was sleeping peacefully with her Teddy bear, when suddenly, a monster popped out from her cupboard then stole her favorite plush. When closing the door, the little girl awoke then got inside the cupboard. She's projected in a magical world, full of monsters and oddities where she has to discover the place and help their beings and find back her Teddy. Still one question remain : will she be able to go back to the real world ?) runs on iPhone & iPad. BUY NOW

 
Repulze – Price : $1.99 – Publisher –

Pixelbite

 (Get ready for a futuristic adrenaline rush from the developers of Reckless Racing. Blast through gravity defying tracks while collecting precious energy boosts to push your speed beyond reason! This futuristic racer puts you in the seat of experimental Repulze hovercraft working as a test pilot for the Man. Well, the Synthetic Man is more accurate. The Synthetics run the corporations. The corporations run the world. You are way down the food chain getting pushed around to complete their "scientific" challenges. But you'll show 'em…

) runs on iPad.

BUY NOW

 
Burt Descruction – Price : $1.99 – Publisher –

RunWilder

 (Help Burt Destruction and his buddy Bigfoot defeat the forces of Yeti and his seriously twisted henchmen in this exciting new platformer. Do you have the sweet skills and lightning fast reflexes to defeat the insane leprechauns, the McGuillicutty's, and the giant evil German earthworm, Wormenstein? Collect coins, upgrade your powerups, upgrade your allies, and unlock crazy costumes on your quest to do battle against the pint sized Yeti and his evil minions! Go now, they need you!) runs iPad & iPhone. BUY NOW
There you have it folks, these games should keep you busy for quite some time, well till next week at least. I'll be back next week for another dose of iOS goodness, in the meantime if anyone would also like to suggest their own suggestions, please feel free to share them in the comments section below or in the iOS forum section on the site here.
Remember kids, Play Hard Or Don't Play At All!