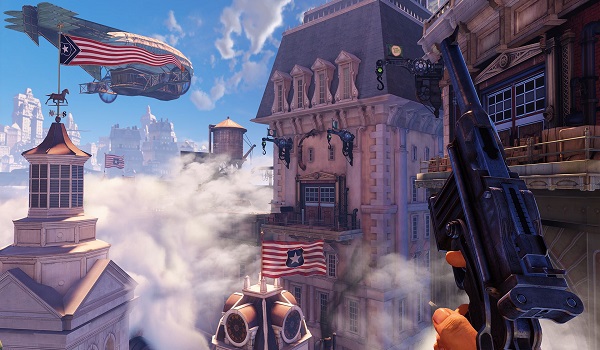 Read up on your warped American History and look out for that Songbird because Bioshock Infinite has officially gone gold! Announced via Irrational Games' blog, the eagerly awaited next instalment from this award winning series will be coming to a store near you on March the 26th.
Creative Director of the game, Ken Levine spoke of the achievement: "Today, I'm happy to announce that the game has gone gold. What that means is that it has been approved by both Sony and Microsoft (and the PC Gods, natch) to be sent to the manufacturing guys to load up fleets of trucks with BioShock Infinite and be driven to a store near you on March 26th."
Bioshock Infinite places players in the role of Booker DeWitt, a disgraced former agent who is sent to Columbia to "rescue" Elizabeth and bring her back alive in order to clear his many debts. Things are not always as they seem however and players will be rapidly plunged into a world of chaos, where gamers' own moral compasses will be broken and you'll need to figure out just who your friends and enemies really are.
"Nobody has ever built a game quite like this. It's a shooter, but a shooter that brings you to very uncomfortable and dangerous places. I can't demand that you play the game; I can promise you, however, that once you have, it will be an experience you won't soon forget."
Following similar tones from the previous two games, Bioshock Infinite will allow players to combine guns, a handy gadget called a Sky-Hook and some incredible powers of control, destruction and confusion; adding up to some very fun signature gameplay.
"Who is Booker, and what is the debt that drives him to Columbia? What are Elizabeth's powers and why has she been locked up since she was a child? Why does Booker have the letters 'AD' branded into his right hand? And what, in God's name, is the Songbird.

Columbia is a city teeming with mystery. I'm glad to say that one mystery is over: On March 26th, you will be able to play BioShock Infinite."
Fans the world over will be able to get their hands on the game on March 26th, with the title arriving on the Xbox 360, Playstation 3 and PC.
Check it out, would you kindly?