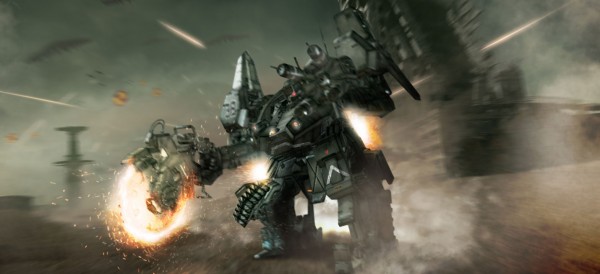 FromSoftware is bringing Armored Core: Verdict Day to the North American shores this summer. Players will participate in the battle for precious natural resources in squads of up to twenty members and battle each other online or in co op mode.  Those who have played Armored Core V will be able to transfer their save to the new game and use their old Armored Core in the new game while outfitting it with brand new parts in the new game.
"The Armored Core series has continually found itself a deep and dedicated fanbase," said Carlson Choi, Vice President of Marketing for NAMCO BANDAI Games America Inc.  "Armored Core: Verdict Day expands the level of immersion with more advanced customization fine tuning and streamlined multiplayer modes."
Armored Core: Verdict Day will be released for Xbox 360 and PlayStation 3 this summer. Find out more about Armored Core: Verdict Day at the official page here.