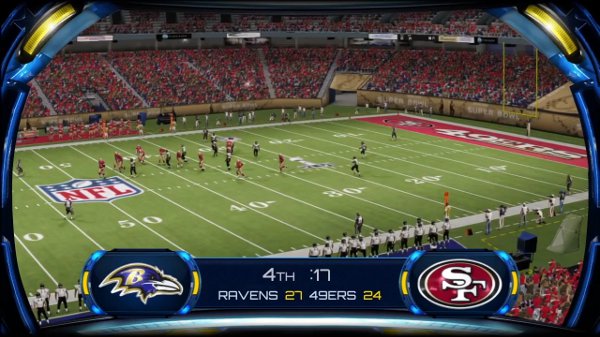 With another Super Bowl coming up this weekend, February 3rd, EA continues their tradition of trying to predict its outcome using the most advanced football simulator they have available to them, Madden NFL 2013.  Having properly predicted the Super Bowl winner 7 of the last 9 years, only the game itself will determine if they will achieve a solid 80% or a rounded 70% accuracy.
As for the prediction itself, the final play of the game can be viewed in the video embedded below, which this time was pretty important as the final play determined the winner.  With Ravens ahead 27 points to the 49ers 24 points, all the 49ers had to do was score a touchdown to claim victory.
How do they fair?  Well admittedly, not so well, losing by an interception allowing the Ravens to run out the clock.  But, it nonetheless marks the Ravens as EA's Madden NFL 2013 Super Bowl XLVII Champion prediction.  Now, it's simply a matter of waiting until the big game on Sunday and see if the real game manages to be as close as this simulation of it.