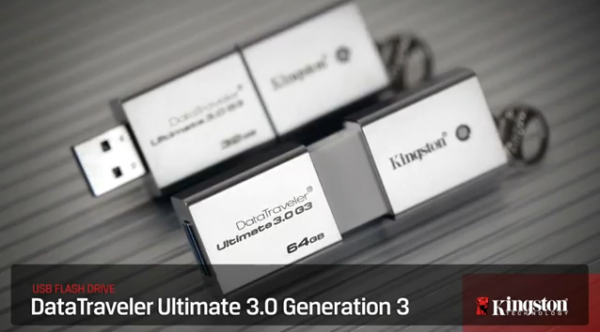 The latest in flash storage from manufacturer Kingston, DataTraveler 3.0 Ultimate Generation 3 USB 3.0 compatible flash drive, is being shipped to stores across Australia. This incredibly fast flash drive is idea for transferring large files such as: Videos, Music, Hi Res Images and more.
The flash drive boasts maximum read speeds of 150MBps and the incredibly fast write speed of 70MBps. However this is only on USB 3.0 ports, so if you only have USB 2.0 ports, you'll be gimped at 30MBps read speeds and write speeds up to 20MBps.
On the new device, a Kingston representative had this to say:
"USB 3.0 is becoming more mainstream as it is standard on most motherboards and PCs shipping today," said Nathan Su, Flash Memory Sales Director, APAC Region, Kingston. "We are working hard to make sure we improve the speed and design of our USB 3.0 Flash drives to stay competitive as demand grows in the market. DataTraveler Ultimate 3.0 G3 is a perfect example of this evolution."
Be sure to check out the devices official site for more info. Check out below for a list of technical specifications.
Kingston DataTraveler Ultimate 3.0 G3 Features and Specifications:
· Capacities*: 32GB, 64GB
· Speed**: USB 3.0 up to 150MB/s Read, 70MB/s Write
USB 2.0 up to 30MB/s Read, 20MB/s Write
· USB 3.0 Performance***: Dramatic time savings when transferring large media files; 8x faster than a standard USB 2.0
· Durable Design: Solid metal sliding casing with no cap to lose
· Backwards Compatibility: Usable with USB 2.0 systems with excellent performance throughout
· Guaranteed: Five-year warranty and free technical support
· Dimensions: Without key ring: 2.6929″ x 0.8961″ x 0.4567″ (68.40mm x 22.76mm x 11.6mm) with key ring: 3.3622″ x 0.8961″ x 0.4567″ (85.40mm x 22.76mm x 11.6mm)
· Operating Temperature: 32°F to 140°F (0°C to 60°C)
· Storage Temperature: -4°F to 185°F (-20°C to 85°C)