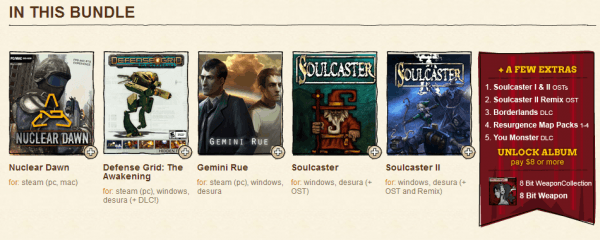 Indie Royale is celebrating a successful year of cheap indie game bundles by putting together the most popular games from previous Indie Royale bundles. The bundle is pay what you want with a moving minimum price as normal. Those who pay more than $8.00 USD will receive an extra large 56 track chip tune bundle called the 8 Bit Weapon Collection.
The Replay Bundle features InterWave Studio's FPS/RTS multiplayer hybrid Nuclear Dawn, Hidden Path Entertainment's 3d tower defense game Defense Grid: The Awakening, Wadjet Eye Game's point and click adventure game Gemini Rue, and MagicalTimeBean's retro RPG-defense game Soulcaster I and Soulcaster II.
Check out the Indie Royale Replay Bundle here.