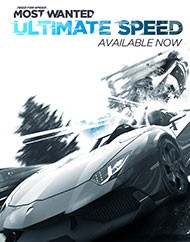 EA have shared with is their video trailer for the upcoming Need For Speed Most Wanted Ultimate Speed Pack DLC package. This new DLC package is going to increase your garage showcase with 5 more exotic vehicles to choose and drive in.
The DLC also includes new Tracks, Speed Runs, Wanted List events, Achievements and Milestones. This is evidenced from this quote, taken from the Official Site –
5 of the world's fastest exotics

25 new Races and Speed Runs

Hennessey Venom GT Spyder Most Wanted List Event

Over 70 speed-themed Car Milestones

4 new Achievements and Trophies
The DLC is out now and is priced at $9.99. It is available on the Xbox 360, PS3 and PC platforms. Be sure to check out the official trailer below. Be sure to also check out our review of the game here.