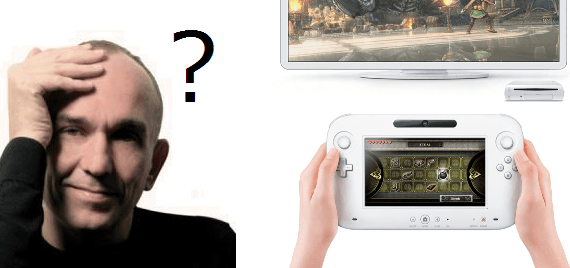 Peter Molyneux the founder of studio '22 Cans' and creator of such gaming classics as Fable: The Journey has spoken out in a manner in which only he can, providing his opinion and deep analysis of the gaming landscape (a subject in which he is considered a pundit). In this particular case his opinion on the Wii U.
When speaking with GI International Molyneux opined his overall confusion and inherent fear regarding the console:
"I think the Wii U is good, but I don't feel it's great. I find holding the device in my hand — looking up at the screen, and looking down at the device — confusing as a consumer. It's good, but it's not great. And we really need these new pieces of hardware to be great in today's world, because the competition isn't just consoles anymore. The competition is everything, all the technology."
It's evident from his statement that the Wii U confused him a great deal. He can't seem figure out which screen to look at and is clearly puzzled as to whether the console is good or great – something many of us ponder after making a game that isn't on rails but is actually on horse.
Regardless of all that, it is genuinely odd that the same man who touted the Kinect as the next revolution in gaming would find playing a Wii U to be confusing.
Do you agree with Molyneux? Is the Wii U too confusing a console for it's own good? Let us know your thoughts in the comments section below.