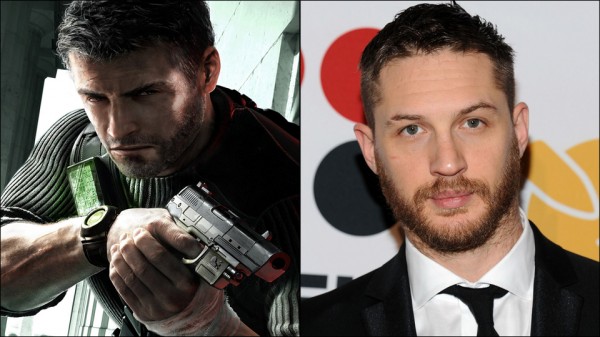 Ubisoft now has film adaptations moving forward on two of their biggest IPs. First, it was announced that Michael Fassbender will co-produce and star in an Assassin's Creed film, being developed by Ubisoft Motion Pictures and New Regency. Now, a Splinter Cell film adaptation has it's lead male role cast. Tom Hardy will be playing the Third Echelon field operative we know all too well, Sam Fisher.
Variety confirmed the casting news on the same day that Collider revealed the screenwriter for the film; Eric Singer, who wrote the 2009 investigative thriller, The International, starring Clive Owen and Naomi Watts. Ubisoft is currently searching for the perfect studio to partner with on the production, with negotiations with Warner Bros. and Paramount having begun. Tom Hardy is blowing up in Hollywood, quickly becoming one of the most sought after actors of the last decade. The involvement of both Fassbender and Hardy, respectively, in these two high-profile game-to-film adaptations marks a great coup for the genre and is a promising sign for it's future.
CEO of Ubisoft Motion Pictures, Jean-Julien Baronnet had this to say about The Dark Knight Rises mega-star: "Tom Hardy is currently one of the biggest talents in the film industry, and he has a phenomenal ability to take on complex and varied roles with his broad range of acting skills…His involvement in the Tom Clancy's Splinter Cell movie is exciting news for movie and video game fans alike." Praise for screenwriter Eric Singer was also relayed: "Meanwhile, Eric Singer is one of the most talented writers of the moment, and … we're confident he'll bring a fresh approach and create a thrilling story … while still respecting all the codes and traditions of the franchise that are so important to fans."
For me, this is very exciting news, and I am more hopeful than ever that the silver screen will finally be blessed with a worthy game-to-film adaptation, and that the original work of all the fantastic story and character writers in the video game industry can be recognised on a larger scale. Some discredit the attempts at getting these films made, but cross-media attracts a wider audience to the source, which is good for business!