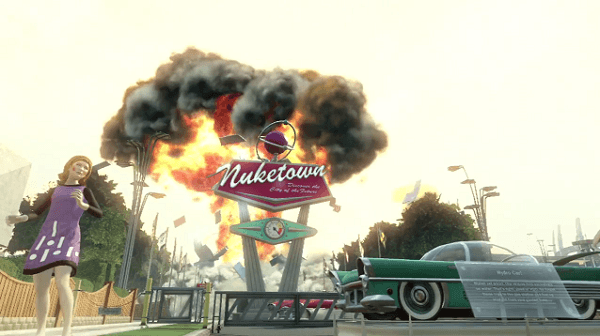 If you were hoping to hop on Black Ops II tonight and play on everyone's favorite map Nuketown 2025 then you will be saddened to hear that Treyarch has removed this map from the game's multiplayer playlist. In fact, the only way to even access the map is in custom game modes which is are only playable with local friends or those who join your game.
This means that the match is not available in public matchmaking and players can no longer receive any experience points for playing on the map. David Vonderhaar, game design director, announced on Twitter that the map would be removed saying "Double XP weekend is official over. That means Nuketown 2025 / 24-7 is as well. I know. RIGHT? Don't kill the messenger." He went on to say that "Nuketown 2025 / 24-7 will be back for special events. You can always play it with your friends in Custom Games."
Now this has led to quite a lot of anger in the world of Black Ops II as at no time was it ever mentioned by Treyarch or Activision that the map would only be available for a limited time or for special events and, while many people would have bought Black Ops II anyways, a highly publicized pre-order bonus has suddenly been made useless and practically non-existent for a bulk of the fan base. Whether the map will be added back in to the game in the future is currently unknown.
Update: Treyarch has re-added the Nuketown 2025 map to Black Ops II in the form of a new playlist. Information about this can be found here.