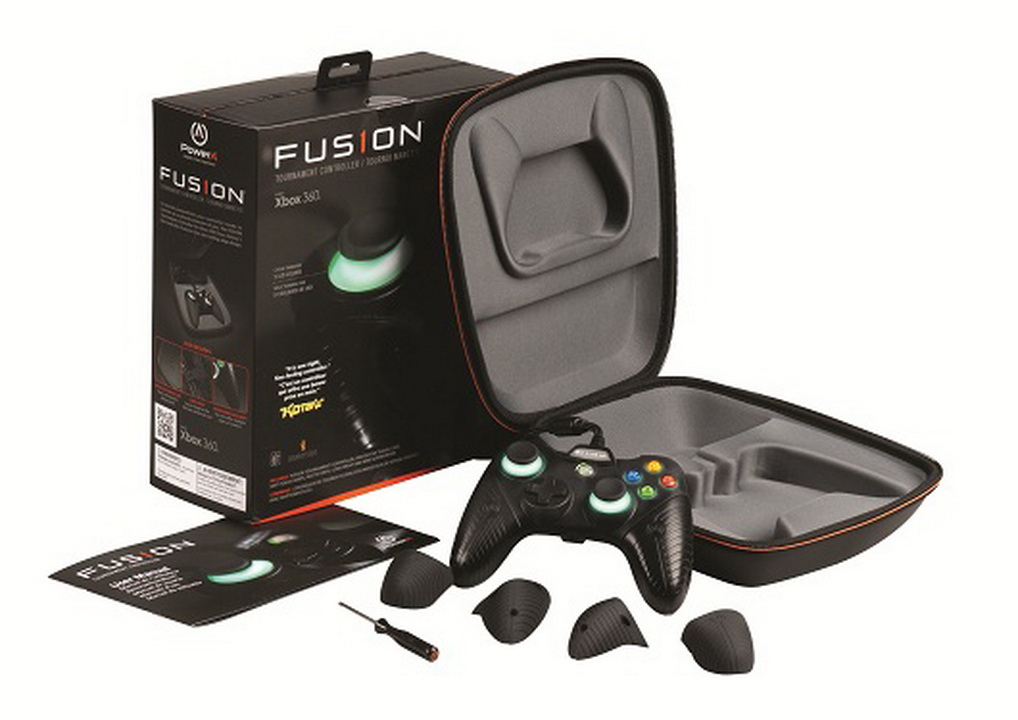 Xbox 360 owners who are yearning for more precise gaming control can look no further than the PowerA developed FUS1ON Tournament Controller, coming to your local EB Games store this December, in Australia.
PowerA has consulted with a select number of pro gamers whilst researching the best controllers of the past and have implemented leading edge technology and materials to create what they boast to be THE premium console controller. Featuring unique analogue thumbsticks, a pro-gaming inspired D-Pad and many more high grade components, the FUS1ON Tournament Controller provides gamers with that precision-based competitive edge.
The following video shows the FUS1ON Tournament Controller in action at the 2012 MLG Tournament in Dallas, TX.:
Vice President of Product Development at PowerA, John Moore had this to say about the creation process, "We worked alongside pro gamers from the very beginning of the development process to get real-life insights into design, aesthetics and control… Extensive testing and rounds of refinement for each individual component produced the FUS1ON Tournament Controller – a brand-new, best-in-class controller designed from the ground up. We're excited that every gamer now has the chance to play like a pro."
The FUS1ON Tournament Controller has some great key features, which include:
Perfect Analogue Control: High grade components are finely tuned to provide durability and precision accuracy.
Unique Analogue Stick Design: Reduces thumb fatigue during extended play sessions.
Precision D-Pad: Pro gamer-inspired design for precise 8-way control.
Custom Illumination: Controller accents and analogue sticks light up in 5 different LED colours.
Interchangeable Grips: Two sets of interchangeable ergonomic grips offer multiple styles of comfort.
Braided 10-Foot Cord: Wired for tournament play and regulations; stay competitive and avoid latency.
Protective Travel Case: Stores and protects the FUS1ON Tournament Controller when gamers light up the gaming circuit.
The FUS1ON Tournament Controller concept trailer is available to watch below. And once again, the FUS1ON Tournament Controller for the Xbox 360 will be available in time for Christmas, this December, for the RRP of $99.99. For more product information, visit the official

PowerA FUS1ON website

.