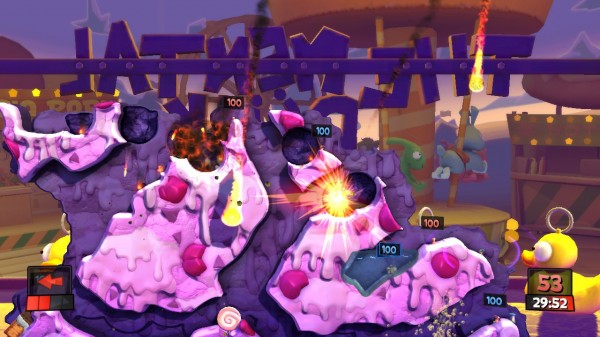 Worms Revolution has been released, and you can find Capsule Computer's own review HERE, but that doesn't mean that the game has to get stale.  One way to make sure that the game keeps fresh and fun is to add more content for players to access and enjoy, which is exactly Team 17's plan with the newest DLC coming out for the game on Wednesday.
Being released for Xbox 360 through XBLA, PS3 through PSN, and PC through Steam, the Funfair Pack DLC adds a new theme to the wacky Worms combat.  With 5 new single-player puzzle missions, 4 new weapons to utilize against your foes, new customization options to match the Funfair theme, and the return of Matt Berry as Don Keystone, the narrator for the single-player puzzles.
Priced at 400 MS Points for Xbox 360, $4.99 (£3.19 / €3.99) for PS3, or $4.99 (£3.99 / €4.99) for PC, players can download the new Worms Revolution Funfair Pack DLC tomorrow, Wednesday October 24th.  Be sure to also check out the screenshots of some of the new features in the gallery below to get a look at what's coming.