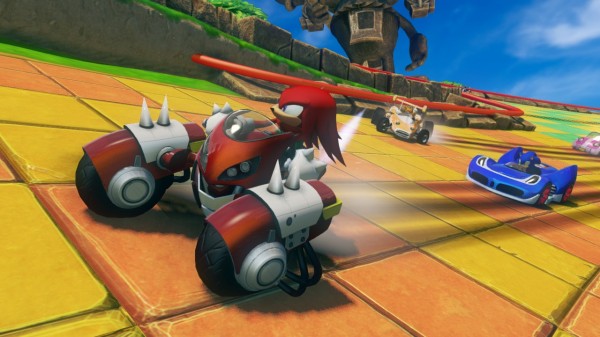 Previously I had gotten a chance to interview Producer at Sumo Digital, the developers of Sonic & All-Stars Racing Transformed, Steve Lycett in which we discussed the game and various other topics. It wasn't until earlier today at the EB Expo did I get a chance to finally get my hands behind the wheel on this game.
SEGA had a very humble booth set up with a multitude of consoles set up each playing their respective version of Sonic & All-Stars Racing Transformed. I took the time to try out all of the versions available to me, including the Wii U version and found myself actually coming back for more.
This is truly a title that surprised me. Now while it at first appears to simply be Mario Kart with SEGA characters, that couldn't be further from the truth. Sonic & All-Stars Racing Transformed is an incredibly unique take on the racing genre that has become somewhat stagnant in recent times with Mario Kart holding a monopoly over the non-realistic racing games and F-Zero falling off the face of the planet.
Sonic & All-Stars Racing Transformed is distinctive for a number of reasons, the most obvious of which is the transforming gameplay and environments, that indeed adds more layers of difficulty than I thought possible in a game of this type. During the third lap of the level that had on display, suddenly and abruptly the ground falls away and sinks into the sea below. Fortunately for you though, you have a transforming vehicle which becomes a hover-craft upon water (it can also become a plane within the air). It's a really interesting concept that works very well, with each vehicle type feeling very distinctive from one another and featuring their own challenges to the player.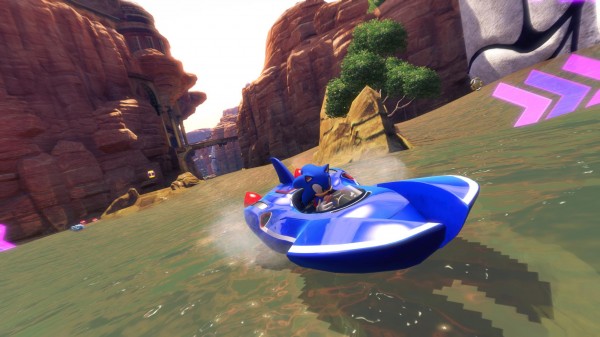 The game itself features a large variety of characters, both the extensive cast of Sonic and SEGA's huge backlog of other series' characters are represented here. If you ever wanted to race against Sonic as Crazy Taxi, well now is your chance, because Sonic & All-Stars Racing Transformed can make it happen.
The Wii U version of the game is perhaps the most interesting due to the fact that it utilises the Gamepad in a few different interesting ways. The first of all is the standard map for you to look at every now and then, but SEGA goes one step further and includes a rear view mirror which is honestly a nice touch. Also there is an option to move the game entirely to the Gamepad. This option wasn't available on our demo of due to the fact we were running on a Wii U dev-kit.
All in all, Sonic & All-Stars Racing Transformed is a wildly infectious racing game that focuses greatly on speed and excitement instead of tactics and strategy. This is not a bad thing, because it takes away a lot of the thinking and leaves plenty of room for tense and addictive fun.