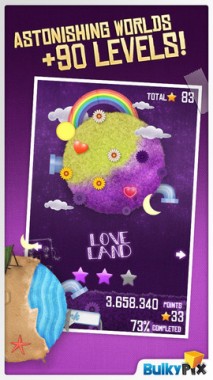 Are you a sugar fan? Well here's an app that is certain to get your attention – Sugar Kid! The evil Mr. Lemon wants to get his throne back from Sugar Kid, by planning to make the poor sugar cube melt. Mr. Lemon, in all of his evil mastermind-iness has trapped Sugar Kid in a water machine in order to melt him down to liquid sugar.
Save Sugar Kid by drawing walls to him protect him against Mr. Lemon's attacks, and avoid death by soda!
Sugar Kid has over 90 levels with three game modes (levels, survival and deadly missions). Full of humour and great graphics (plus a little bit of gore mixed in), Sugar Kid will definitely be a super sweet app.
Sugar Kid is available NOW for iPhone, iTouch and iPad for a special launch offer of HALF PRICE. So get in quick and grab Sugar Kid for the low price of $0.99 – Get it HERE