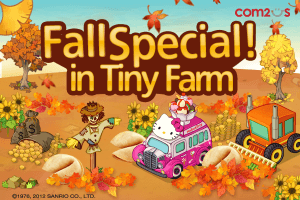 Tiny Farm has brought out the big guns, partnering with Sanrio to introduce the one and only Hello Kitty to the rest of the Tiny Farm gang. Com2US are ultra-excited to add the famous Kitty to their farm who has been settling in well since his introduction on 2oth September. Ben the Sheep and the rest of the animals are a perfect fit for the Hello Kitty universe and will see the introduction of 3 new animals and heaps of items into their lives.
Collecting items for your farm has never been more exciting with so much more to choose from the Hello Kitty range of items, including Tiny Beach accessories. Sanrio has huge exposure around the world and Hello Kitty is like an institution spanning across multiple generations. The combination of Tiny Farm and Hello Kitty is a perfect match sure to appeal to female gamers everywhere.
Tiny Farm with Hello Kitty is available now for both iOS and Android users alike.