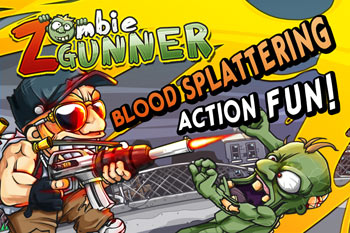 Tomorrow Zombie Gunner, a new side-scrolling action/RPG game from Gamevil Inc., is coming out for the iOS. The best part? You get to satiate your appetite for zombie destruction for free!
Zombie Gunner features a colourful and wide variety of weaponry at your disposal, allowing you to electrify, burn and flat-out annihilate zombies. It wouldn't be an action game without bazookas after all! As Andrew, you will be venturing to find and rescue your lost daughter Lisa, whilst also meeting some friendly characters amongst the infected hordes of zombies who can be added to your party and will help out in further questing. You will also be posed with stage challenges, which challenge you to complete a level under certain criteria that may be time or technique based. All the while you will discover the truth behind the zombie apocalypse and where/why it originated.
Below are the first screenshots and the first gameplay video direct from Gamevil! Dig in!