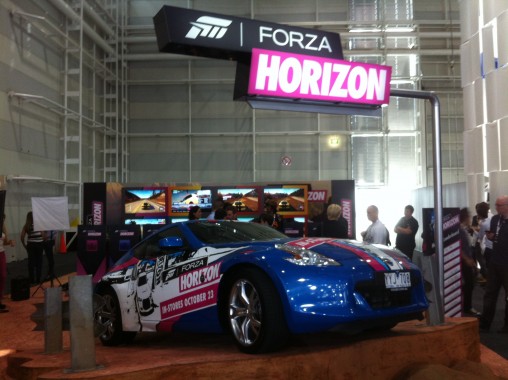 Earlier today at the Sydney International Motorshow, Microsoft brought together a group of gaming media from a vast variety of different outlets for their Forza Horizon launch event. I was amongst the invited and got to get behind the wheel again with Forza Horizon after having previously having gotten my hands on the game at the EB Games Expo.
Upon arriving at the Sydney Convention Centre at which the Motorshow was being held, I took a stroll through the show hall and enticed my car-loving side with a variety of vehicles on display. I had a particular affection for Lamborghini's showing. Interestingly enough once I got to the Forza Horizon booth I discovered that I'd be driving a Lamborghini in the game itself. So win-win for me.
Along with an array of other media folks, I took Forza Horizon for a test drive in some competitive online races. We competed against one another in your standard race, which I honestly couldn't put down until they told me to. This game is flat-out addictive. After playing a few races we were all asked to stand for a speech from Microsoft in which they announced that we would all engage in a little competition amongst ourselves. The prize being a bottle of champagne and a brand new Xbox 360.
They informed us that there would be two heats, with the people coming top 3 in their heats moving on to the finals, with 2 wildcards to be selected to fill the final 2 spots in the finals. So quicker than a whip I hopped into the drivers seat yet again and engaged in a hard fought race in which I barely scraped in at 3rd place to secure a spot in the finals.
Once we got into the finals, the tension in the air was thick, many of us wanted that bottle of champagne. We raced our hearts out and unfortunately for me disaster struck on my 3rd lap. Suddenly my Xbox disconnected from Xbox Live thus eliminating me from the competition, Microsoft staff apologised, but I didn't mind, I was playing simply for the fun that this game brings and that bottle of champagne.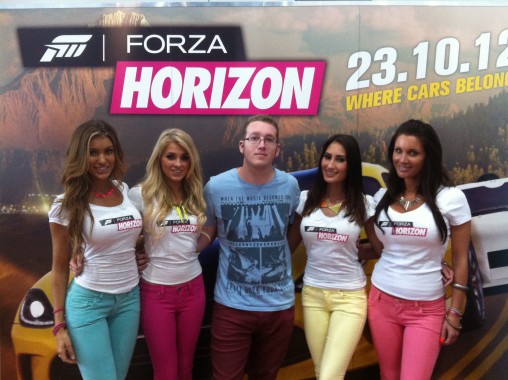 Regardless of all that, the real star of the launch event wasn't the competition or the booth babes that Microsoft had pose for pictures with us all, but it was the game itself and might I say, what a game it is. Forza Horizon is arguably a contender for Game of the Year. Turn10 Studios have done incredible things with the franchise that had honestly grown somewhat stagnant by completely flipping it on it's head and drawing inspiration from classic racing games like Burnout and Outrun. But it's not just a game that draws from other series, it has stamped out it's own unique personality and style that will not soon be replicated.
The game's open world has a grand feel that begs you to explore it and races are slick and infectious. You'll do one race and find yourself dashing for the next dose of rubber-burning excitement at the Horizon Festival. When a racing game has that addictive arcade quality that has grown more and more difficult to find in recent times you know that you've got your hands on something that is sadly a rarity in the modern gaming landscape, but always a pleasure no matter how few and far between these types of experiences may be. From top to bottom, Forza Horizon is an rare experience that takes the franchise in a radical and exciting new direction. This one is a must buy, without a doubt.
Forza Horizon launches throughout Australia on October 23rd, exclusively on the Xbox 360. If you are interested in purchasing the special collector's edition of Forza Horizon you do so only at EB Games and JB HIFI. For more information of Forza Horizon be sure to check out it's official website here. Be sure to check out the launch trailer for Forza Horizon below as well as the images from the Motorshow and let us know your thoughts on the launch event and the game itself in the comments section.