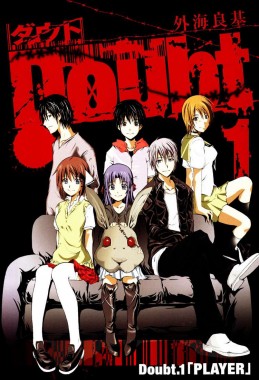 Ever heard of the manga known as Doubt? You haven't? Well I'm not surprised, it's a series that ultimately flew under the radar of many manga fans. But that does not mean that it is not a quality series. The good news is that Yen Press have licensed the manga for a Western localisation.
The manga follows a group of teens who regularly play the online mobile game known as 'Rabbit Doubt' which focuses on a number of players having to figure out which one of them is actually a wolf in disguise. One day during a meet up of 'Rabbit Doubt' players, they soon discover that 'Rabbit Doubt' is not just a mobile game but a Survival Game with their lives truly at stake in a mysterious unknown place with seemingly no escape.
Doubt ran for 4-volumes and was serialised in Monthly Shonen Gangan from 2007-2009. A sequel to Doubt called Judge is currently being serialised but has not yet been confirmed to have been licensed by Yen Press.