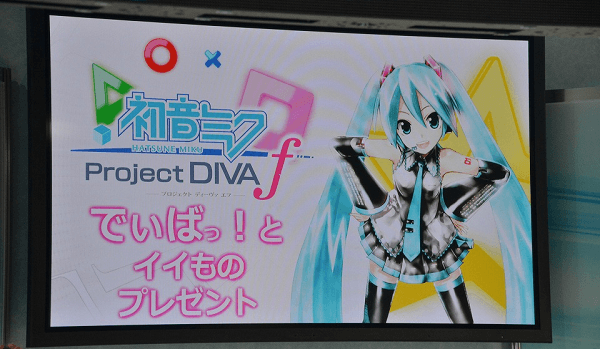 While the Tokyo Game Show wrapped up earlier today, there still are a few pieces of news that have yet to be fully revealed. Or shall we say, at least revealed in English. Japanese website Gamer happened to be in attendance during a stage event held by Sega on the last day of TGS.
What happened during this stage show you ask? The announcement of Hatsune Miku Project Diva F on the PlayStation 3 sometime next year. This announcement came from a pre-selected Twitter question that was then answered amidst a number of other questions posed by Twitter users.
Many of you know that Hatsune Miku Project Diva F was originally a PlayStation Vita exclusive and was released in Japan a few weeks ago. It is currently unknown what type of improvements will be made to the PS3 version of the game, though given the fact that DLC for the Vita version is already planned, it could contain everything in one package.
Unfortunately there was no mention of an international release for the title, nor the PS Vita version of the game during the show, but given that both the PS3 and PS Vita are region free, gamers can still freely import the titles at an additional fee.