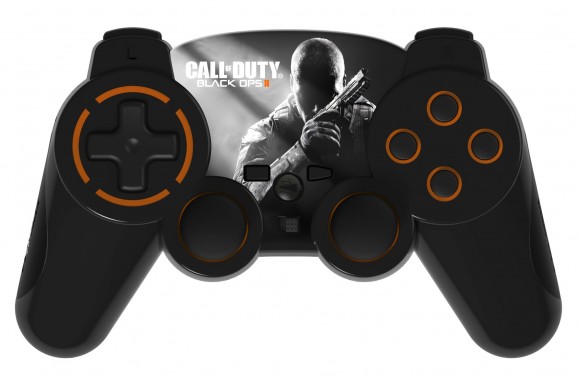 Bluemouth Interactive have announced two accessories to tie in with the release of Activision's Call of Duty: Black Ops II. The two accessories are a Playstation 3 controller branding the game's logo and a phone case for the iPhone 4/4S, iPhone 5 and Samsung Galaxy SIII. These two accessories will be available on the day of Black Ops II's release, November 13. The controller will retail for AUD$79.95 / NZ$109.95. The phone cover will retail for AUD$29.95 / NZ$39.95.
The main features of the PS3 controller are:
• Bluetooth® Controller with a rechargeable battery – made for PS3™ game.
• 6-axis and tilt sensor technologies.
• 2 vibration motors.
• Updatable flash IC.
• USB 2.0 power cable (Length: 0.8m) for sync connection and charging.
• Rechargeable battery: NiMH 700mA.
• Time life of the battery: 15 hours.
• Charging time: 3 hours.
• Up to 10 meters range.
• Orange Backlighted.
• Non slip, ergonomic triggers for precise gaming.
• Rubber grip for a perfect handling – embossed with the Call of Duty Black Ops 2 logo.
For those interested, the accessories will be unveiled for the first time at the upcoming EB Expo in Sydney next weekend. Capsule Computers will be there covering every aspect of the EB Expo. You can check out the accessories in the gallery below.