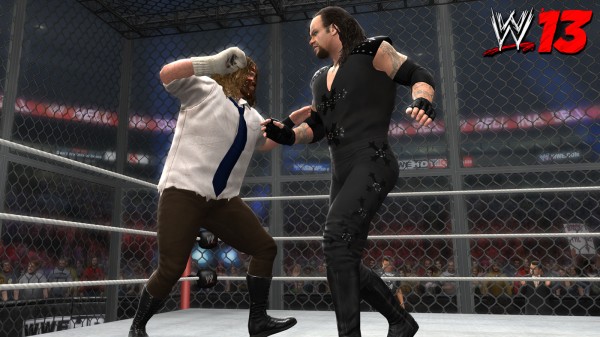 During the past week, THQ went ahead and revealed their full roster for WWE 13, which includes a good amount of current and past Superstars. Of course we got some Mick Foley, Stone Cold, and The Rock, but it seems the present day is also well covered with the likes of John Cena, Brodus Clay, and the returning Brock Lesnar.
Check out the list for yourself:
Present day
The Bella Sisters
Eve
CM Punk
Lita
Kharma
Kelly Kelly
Rey Mysterio
The Rock
R-Truth
Santino
Sheamus
Sin Cara
Primo
Epico
Triple H
Undertaker (with mohawk)
Jinder Mahal
Wade Barrett
Zack Ryder
Alicia Fox
Beth Phoenix
Kevin Nash
Kofi Kingston
Mark Henry
The Miz
Randy Orton
John Cena
Great Khali
Heath Slater
Hunico
Jack Swagger
John Laurinaitis
Chris Jericho
Christian
Cody Rhodes
Daniel Bryan
David Otunga
Dolph Ziggler
Edge
Alberto Del Rio
Big Show
Booker T
Brock Lesnar
Brodus Clay
Doctor of Funk John Cena
JBL
Justin Gabriel
Attitude Era
Christian
Dude Love
Eddie Guerrero
Edge
Godfather
Hunter Hearst Hemsley
HHH
Kane
Ken Shamrock
Shawn Michaels
Undertaker
Vader
X-Pac
Lita
Stephanie McMahon
Trish Stratus
Mankind
Mark Henry
Mr. McMahon
Big Show Paul Wight
Road Dogg
The Rock
Stone Cold Steve Austin
Shane McMahon
Mike Tyson
Road Warriors
Big Boss Man
Billy Gunn
Acolytes
Bret Hart
British Bulldog
Cactus Jack
Y2J Chris Jericho
A.J. Lee is not listed here but has been announced as DLC, along with Damien Sandow. Aside from the lack of Too Cool and The Hardy Boyz, I would say this line-up is a job well done, and it will be interesting to see how well WWE 13 turns out when it hits stores on October 30th. Check out the stars below in the brand new trailer that displays everyone who made the cut.