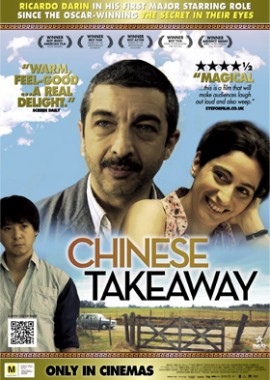 In film festivals there are usually films that stand above the rest, ones that achieve popularity and so are flogged to the general public with a stamp of approval. Chinese Takeaway is such a film from this year's Rome International Film Festival.
Chinese Takeaway is a film about Roberto, a loner who loves being one of those eternally cranky people and dislikes others. His life changes when he meets Jun, a Chinese man who has just arrived in Argentina and cannot speak a word of Spanish. This odd coupling explores the language barrier, and leads to many hilarious and absurd situations, as well as helping draw Roberto out of his loneliness.
If you're a fan of comedy films and are looking for something a bit different from the usual Hollywood stuff that spits out the same storyline again and again then this is definitely a film that you should see.
Check out the trailer for Chinese Takeaway below and let us know what you think! Chinese Takeaway will be released on the 30th of August 2012.