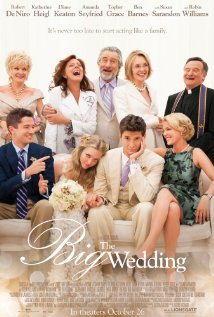 With the heavyweight comedy actors Diane Keaton, Susan Sarandon, Robin Williams, and Robert DeNiro, The Big Wedding looks like it will be the big comedy movie. The plot (a divorced couple pretends to be married for the sake of their adopted son's birth mother so that the wedding goes smoothly) sounds like your typical rom-com, but the trailer looks like there will certainly be some more depth and – gasp – the people pretending to be married may not actually end up getting married in the end.
It looks to be aiming for that brutally honest, family comedy type of humour, and since the talented and well-known actors are backed up by the equally funny Katherine Heigl, Topher Grace and Amanda Seyfried then they may well accomplish this.
Check out the trailer below and let us know what you think in the comments section! Are you interested in seeing it or does it just strike you as the same as every other comedy blockbuster that's been filled with big name actors?
The Big Wedding will be released in theatres on October 26, 2012.