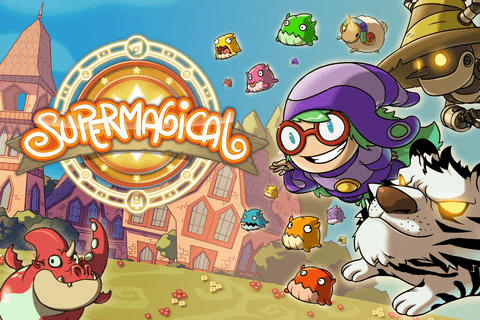 Welcome back for this week's iOS Game Suggestions. If you missed or are new to the suggestions, click on the link below and check what cool games you should be picking up for your iOS along with the introduction and disclaimer on how the suggestions work. (suggestions 1 has the disclaimer and how it all works)
MasterAbbott's iOS Game Suggestions
A pretty below average week on iTunes, it started slow and ended slow. There certainly is a few must buy games this week in all departments, FREE, 99c and over 99c. This week i've suggested a total of 17 great quality titles. Make sure you check them all especially Eternity Warriors 2, One Epic Knight, Supermagical, Jelly Cannon and Small Town Terrors just to name a few.
Break down below :
7 – FREE Games
7 – $0.99c Games
3 – Over $0.99c Games
As always for this week's suggestions are all new titles that you should take a look at and consider spending your hard earned iTunes cash / time on.  Well the Free games just below certainly should all be given a shot as they won't cost you anything!
For The Cheapskates – FREE GAMES
 
Eternity Warriors 2 – Price : FREE – Publisher –

Glu Games

 (The battle for Northern Udar rages on! It's been 100 years since the First Demon War tore the land apart. Thanks to the Eternity Warriors the demon threat was held at bay. However the demons have been consolidating their power in a series of Demon Towers built in locations throughout Northern Udar. You've been tasked with cleansing these Demon Towers and defeating an even deadlier demon army than before … 

) runs on iPad & iPhone.

GET IT NOW FOR FREE

 

Cosmic Colony – Price : FREE – Publisher – Gameloft (2088 AD: For ten years, brave men and women have explored the galaxy, searching for life and colonizing worlds. A scout robot named E.A.R.L., dispatched to the distant planet Mochwoi, reported strange energy readings… and then mysteriously aborted its mission.) on iPad & iPhone. GET IT NOW FOR FREE

 
King's Bounty: Legions – Price : FREE – Publisher –

NIVAL

 (King's Bounty Legions is a fantasy turn-based strategy. Explore the world of King's Bounty travelling from one location to another, completing quests and gaining experience. Discover, buy and get new creatures to assemble powerful army and fight your foes. Craft your armor and weapons to defeat other players in PvP mode.

) runs on iPad & iPhone.

GET IT NOW FOR FREE

 
Zookeeper Battle – Price : FREE – Publisher – 

KITERETSU INC

 (Battle by catching animals and going head to head with ATTACK and DEFENSE for 30-second rounds. When your opponent's LIFE is completely gone, you win! In the event of a draw, battle it out for one more round!! *When victory hasn't been decided after 5 rounds, the one with the most remaining LIFE wins.

) runs on iPad & iPhone.

GET IT NOW FOR FREE

Wordsplosion – Price : FREE – Publisher –

Concrete Software

 (Race against the clock in the fast-paced word game that always keeps you guessing: Wordsplosion! It sounds simple enough: Just try to guess the five letter word. You'll have five guesses to do it and we'll even give you the first letter. No problem, right? Well, you'd better be quick because the clock is ticking, and if you take too long…BOOM! Did you hear that? That was a Wordsplosion! — and the next one you hear might be your last!

) runs on iPad & iPhone.

GET IT NOW FOR FREE

 

One Epic Knight – Price : FREE – Publisher – Simutronics Corp (Are you looking for a game that leaves you feeling EPIC? Look no further than this all-new take on the endless run genre! Dive into an endless dungeon of crazy traps, chasms and creatures in pursuit of almighty loot! There's plenty to find, but one misstep and it's all over.) on iPad & iPhone. GET IT NOW FOR FREE

 
Killing Time – Price : FREE – Publisher –

PNJ Inc

 (Flowerpot of life consists of 4 easy & fun mini-games for you to enjoy. Please help Mr. Hero heal his planet while enjoying a variety of mini-games : Arcade/Puzzle/Action/Tycoon! Moreover, collecting adorable healer characters is also great joy of this game. Magically, Killing time brings you to the world of joy. 

) runs on iPad & iPhone.

GET IT NOW FOR FREE
For The Bargain Hunters – 99c Games
 

Supermagical – Price : $0.99 – Publisher – Gala Pocket (Join Nina, the little witch, in a fun magical adventure that will take you on a trip through different continents full of puzzles, spells, candy and… Minix? Minix are magic-loving little creatures who have invaded Nina's world along with her Evil Witch sisters. Now you have no choice but to use your magic powers to send them all packing if you want to save the day!  Supermagical is an awesome fun puzzle and adventure game for all ages, where you'll visit tons of magical places, meet cool characters, and cook amazing spells.
You won't be able to stop playing!) runs on iPhone & iPad. BUY NOW

 

Bug Invasion – Price : $0.99 – Publisher – Bulkypix (Those insects won't bug you any longer! A kitchen table, right after dinner: the background is set, and the battle bound to happen is going to be remembered for years. General Cockroach himself is leading the attack and it is your job to protect the Sugar-bowl from the dirty insects invading your house! Soon swarms of insects are going to invade the battlefield and you will have to eradicate them, building and upgrading your defenses. Fire at will with your rubber ducks, robot toys or pepper machine guns. Lay your weaponry well and choose the best strategy to become King of the Table!) runs on iPhone & iPad. BUY NOW

 

Jelly Cannon Reloaded – Price : $0.99 – Publisher – Chillingo (The big Sunjelly has been shattered and it's your job to put it back together. Bounce Blurblings across each world to squash the sun jelly segments back together in the latest great game from Chillingo and Nickelodeon! This unique game will challenge your tapping accuracy and puzzle solving skills! ) runs on iPhone & iPad. BUY NOW

 
Mikey Shorts – Price : $0.99 – Publisher –

BeaverTape Games

 (RUN, JUMP, and SLIDE through the land to help Mikey Shorts rescue the people! Collect coins to buy fun disguises along the way!) runs on iPhone & iPad.

BUY NOW

 

Dwarf Quest – Price : $0.99 – Publisher – Wild Card (Do you remember crawling through dungeons in video and board games in the 90's? Dwarf Quest revisits such classic experiences, reimagined for your iPad, iPhone and iPod touch. Play as Morrin Firebeard, proud dwarven warrior. Explore forgotten dungeons, slay terrible monsters and find glorious treasure! Will you be able to survive, and ultimately track down the undead wizard Azar?) runs on iPhone & iPad. BUY NOW 

 
Toy Box  – Price : $0.99 – Publisher –

Barrel Of Donkeys

 (Two simple and warmly familiar games combine in a deep and unfamiliar way. Toybox is kinda like rubbing your head and patting your tummy at the same time. Shoot enemy toys on the left side of the screen to earn wooden blocks on the right. Then stack the blocks to explode stuff, power up your ship and earn extra lives. Each side affects the other, so master the interaction and survive as long as you can.) runs on iPhone & iPad.

BUY NOW

 

One Tap Hero – Price : $0.99 – Publisher – Chillingo (Platforming has never felt so simple…
An evil wizard has turned your sweetheart into a teddy bear and the only way to save her is to collect stars and use their power to change her back. Time for a top tapping adventure!) runs on iPad & iPhone. BUY NOW
For The Millionaires – All games over $0.99
 

Time Trap HdO – Price : $1.99  – Publisher – Crisp App (Solve the mystery of post-apocalyptic world and find out why a journalist was found missing. Adventure will take you on a journey through empty corridors of an abandoned city in a search for missing person. Unique atmosphere and sci-fi storyline, ambient music and realistic graphics will make your trip to quarantined zone an unforgettable experience.) runs on iPhone & iPad. BUY NOW

 
Small Town Terrors: Livingston – Price : $5.49 – Publisher –

Big Fish Games

 (Your family is missing and the town is in chaos in Small Town Terrors: Livingston! Search for your family, uncover the evil that has enveloped the town, and escape with your life in this mystifying Hidden Object Puzzle Adventure game. Explore abandoned buildings and search for helpful items as you try to piece together what has happened to the town. Find your family before it's too late in Small Town Terrors: Livingston! 

) runs on iPad.

BUY NOW

 
Krog – Price : $1.99 – Publisher –

Conjured Graphics

 (Krog is a dungeon crawling RPG based in the Blackgard fantasy universe. Lead Krog on a journey into the depths of Castle Blackgard to find your lost mate, and confront the evil lurking within. Once you've finished story mode, enjoy randomized levels with the "Roam" play mode. Update for additional story-mode content every month for 2012.) runs iPad & iPhone. BUY NOW
There you have it folks, these games should keep you busy for quite some time, well till next week at least. I'll be back next week for another dose of iOS goodness, in the meantime if anyone would also like to suggest their own suggestions, please feel free to share them in the comments section below or in the iOS forum section on the site here.
Remember kids, Play Hard Or Don't Play At All!