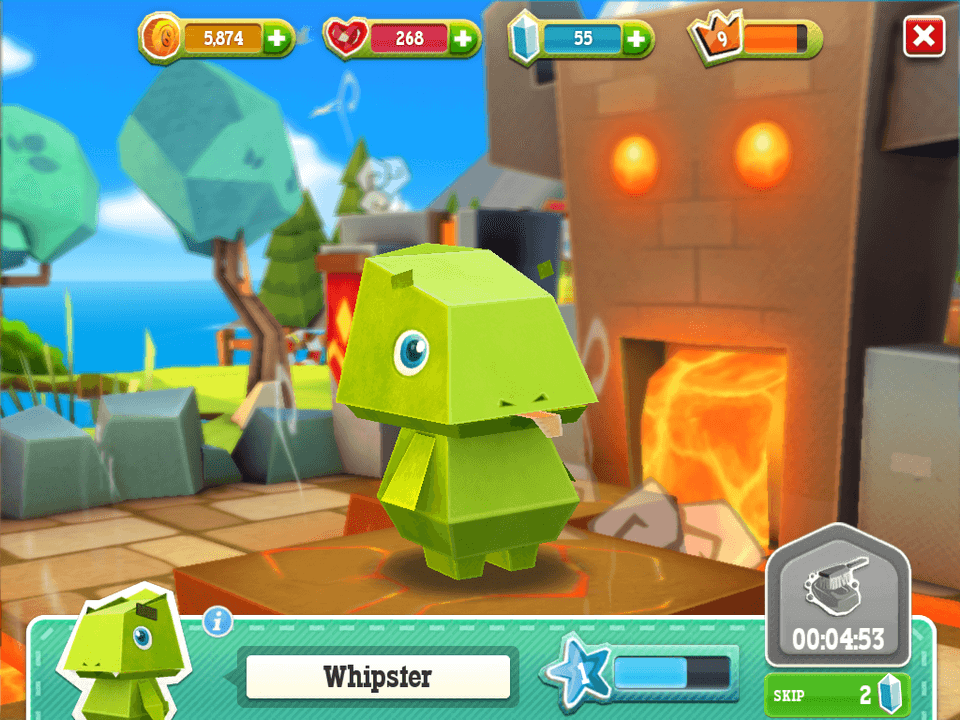 Welcome back for this week's iOS Game Suggestions. If you missed or are new to the suggestions, click on the link below and check what cool games you should be picking up for your iOS along with the introduction and disclaimer on how the suggestions work. (suggestions 1 has the disclaimer and how it all works)
MasterAbbott's iOS Game Suggestions
A great week on iTunes, as always it started slow and but ended with a bang! As always there certainly is a few must buy games this week in all departments, FREE, 99c and over 99c. This week i've suggested a total of 27 great quality titles. Make sure you check them all especially Monster Life, Funky Bee, The Infinity Project 2, Dungeon Village, Wizorb and Alien Breed just to name a few.
Break down below :
9 – FREE Games
8 – $0.99c Games
10 – Over $0.99c Games
As always for this week's suggestions are all new titles that you should take a look at and consider spending your hard earned iTunes cash / time on.  Well the Free games just below certainly should all be given a shot as they won't cost you anything!
For The Cheapskates – FREE GAMES
 

MASTERABBOTT'S FREE GAME PICK OF THE WEEK!

Monster Life – Price : FREE – Publisher – Gameloft (Discover a magic world of cute monsters and exciting battles! This is the thrilling world of Monster Life!
A century ago, the islands of Numa were attacked by the mysterious Chaos. But a young monster keeper and his monsters fought back and brought peace to the islands!) on iPad & iPhone. GET IT NOW FOR FREE

 
Fix-it Felix Jr. – Price : FREE – Publisher –

Funky Bee Games

 (DISNEY AND WRECK-IT RALPH PRESENT FIX-IT FELIX JR! IF THERE'S SOMETHING TO BREAK, THERE'S SOMETHING TO FIX AND THIS GAME'S GOT A LOT OF BOTH! Journey back to Wreck-it Ralph's 8-bit origins in a brand new game with classic arcade looks and fun. Play as Fix-it Felix Jr. and use your magical hammer to fix whatever Ralph destroys! After all, it's what you've been programmed to do. 

) runs on iPad & iPhone.

GET IT NOW FOR FREE

 
Funky Bee – Price : FREE – Publisher –

Funky Bee Games

 (Five hundred years ago, a terrible dragon destroyed the magical Funky Bee castle in a blaze of fire. Rallying around Her Royal Beeness, Queen Groovisma, the few survivors rebuilt the castle and peace was once again restored to the valley. And so it has been for centuries. But recently, a series of mysterious magic outages have plagued the castle and its inhabitants. To make matters worse, bears have been sighted on the banks of Honeydew River, near the Great Dam.

) runs on iPad & iPhone.

GET IT NOW FOR FREE

 
Agent Dash – Price : FREE – Publisher –

Full Flat

 (Run for Queen and country with a host of sidekicks in the blockbuster running game of the year! From the makers of Flick Golf, Flick Soccer and NFL Flick Quarterback comes the most intense, explosive, white-knuckle ride available! Your mission, if you choose to accept it, is to destroy as many villainous bases as you can! Sprint through gorgeous environments, using secret agent skills to evade every hazard the evil megalomaniacs can throw at you, from laser beams and falling trees to skidding trucks and fiery lava.

) runs on iPad & iPhone.

GET IT NOW FOR FREE

 
Clash Of Clans – Price : FREE – Publisher –

SuperCell

 (Clash of Clans is an addictive mixture of strategic planning and competitive fast-paced combats. Raise an army of Barbarians, War Wizards, Dragons and other mighty fighters. Join a clan of players and rise through the ranks, or create your own Clan to contest ownership of the Realm. Driving back the goblins is just the first step – your quest isn't over until your clan reigns supreme over all others!

) runs on iPad & iPhone.

GET IT NOW FOR FREE

 

16bit Trader – Price : FREE – Publisher – Forever Entertainment (Take revenge on your father's killer, and become the richest merchant in the kingdom! Immerse yourself in this old-school nostalgia-inducing trading experience. Step into the shoes of a medieval traveling merchant, whose life boils down to one simple sentence: you got to buy cheap, and you got to sell high. Travel between the cities and villages of the realm in search of cheap goods to acquire, various quests to accomplish and wealth to accumulate) on iPad & iPhone. GET IT NOW FOR FREE

 
Gears & Guts – Price : FREE – Publisher –

Glu Games

 (The zombies have taken over your town. Just wait until they hear the roar of your engines! In Gears & Guts, the city's hopes rest on you and your collection of nitro-burning, bullet-spitting, four-wheeled engines of destruction. Crush the undead beneath your tires. Tear them rotten-limb-from-rotten-limb with whatever military gear and experimental weapons you can bolt to your car. Power-slide a path to victory! Grab your keys. Fasten your seatbelt. It's time to put some blood on the highway.

) runs on iPad & iPhone.

GET IT NOW FOR FREE

 

Book Cricket 2012 – Price : FREE – Publisher – Dot Com Infoway (Do you fancy cricket? Do you still cherish the days of playing cricket under your desk flipping through the pages in your text book with your friends? Well, here is the Book Cricket app to help you play cricket at any time and at any place, of course! This Book Cricket application tickles your childhood memories of playing cricket with a book. It's a book which decides your game here.) on iPhone & iPad. GET IT NOW FOR FREE

 

Silver Bullet – Price : FREE – Publisher – Dirtymartini (You are trapped in a laboratory infested with genetically engineered werewolves: it sucks to be you…deal with it! . To make matters worse, you are dying, and your health is rapidly decreasing every second. Stay alive by collecting the blue health spawns and shooting dead the werewolves with your M4 assault rifle loaded with silver bullets, and your grenade launcher charged with silver frag grenades…) on iPhone & iPad. GET IT NOW FOR FREE
For The Bargain Hunters – 99c Games
 

The Infinity Project 2 – Price : $0.99 – Publisher – Crazy Robot Games (Stop the evil Talon High Commander from destroying Earth and enslaving mankind. The Infinity Project 2 is a new kind of First Person Shooter game with elements of free roam and linear gameplay blended to create a deep and interactive story. An evil alien race called the Talon's have time traveled from the year 2243 to sometime in Earth's past and drastically changed Human history. You must follow them and investigate when this happened to try to stop them. Along the way you find out humans may not be the innocent victims in this galactic battle for survival!) runs on iPhone & iPad. BUY NOW

 

KooZac – Price : $0.99 – Publisher – Square Enix (The concept of KooZac is simple: position the falling blocks on top of each other to create the target numbers. PUZZLE – Play through 60 levels, destroying the silver puzzle blocks and clearing the board by completing the targets. ENDLESS – No level, no stage – compete against the world in Endless mode and use multi gems to rack up huge scores. BLITZ – Take on your Facebook friends in the 60 seconds KooZac Blitz mode – compete for the top spot in weekly tournaments, use boosts the super charge your score.) runs on iPad & iPhone. BUY NOW

Magic Beach – Price : $0.99 – Publisher – Skript (A restful wash, crying seagulls and golden sand – this enchanted beach is an ideal place to turn into the most luxurious resort along the seacoast. Build hotels and inns and invite the most extravagant tourists. Start with little buildings and discover new possibilities as you earn each new level. And, don't forget about cafes and restaurants for tourists! Magic Beach is distinguished by high-quality graphics and beautifully drawn characters, with each character and building having its own unique template. In addition, your beach can be easily moved to a desert or viewed during a beautiful starry night. Just imagine the breath-taking, romantic moon above the ocean water!) runs on iPhone & iPad. BUY NOW

 

Caveman Dash – Price : $0.99 – Publisher – Falanxia ("Me Rocky. Me hungry. Apples yummy. Rocks not yummy. Dinosaurs ouch. Help!" Clear out apples from all caves and avoid all dangers hiding in the dark. Use your wits, coordination and planing to keep up with the challenges of later caves. And don't forget about the stars! The more stars you get, the better you are!) runs on iPhone & iPad. BUY NOW

 
Funny Wood HD – Price : $0.99 – Publisher –

Chillingo

 (Discover a magical woodland world in this enchanting hidden object adventure. Meet all manner of magical creatures and help Mossy in his quest to go to the greatest party the forest has ever seen! Six magical woodland scenes from a picnic in the woods, a crazy laboratory and the ominous Dark Forest. Swipe spiders aside, swoosh the clouds away and pop bubbles to uncover the scenes below.) runs on iPhone & iPad.

BUY NOW

 

Carrot Watch! – Price : $0.99 – Publisher – Bulkypix (Everybody knows that bunnies are sweet and innocent creatures leading a simple life filled with carrots and love…But beware, they won't hesitate to unleash their wrath if you go after their precious orange gold. In Carrot Watch, the rabbits don't beat around the bush: they use Rambo style techniques, ninja strategies, use shaman spells or hunter skills and exterminate these fiendish foxes once and for all. ) runs on iPhone & iPad. BUY NOW 

 
Commando Jack  – Price : $0.99 – Publisher –

Chillingo

 (Tower defense that truly puts you in control. You are Commando Jack, the baddest, meanest, toughest soldier planet Earth has to offer, and it's up to you to save the world from alien invasion. Repel attacks by placing towers on the map, but that's not all—when you need that extra bit of firepower, just jump in your turret and take those suckers down in first person mode! ) runs on iPhone & iPad.

BUY NOW

 
Survival Penguin Battle Royal  – Price : $0.99 – Publisher –

Althi Inc.

 (Battle Royal on ice! Final battle for survival now begins! 3D action game that unique characters such as penguin, white bear, seal, pirate battle on various types of ice battle fields. Use various weapon including bomb, bat effectively to beat the boss!
Although the enemies coming to attack you one after another, beat them and survive!) runs on iPhone & iPad.

BUY NOW
For The Millionaires – All games over $0.99
 

MasterAbbott's over 99c Pick Of The Week!

Wizorb – Price : $2.99  – Publisher – Tribute Games (The once peaceful Kingdom of Gorudo is threatened by an evil presence. The only hope for salvation is Cyrus, a wizard versed in a secret magic art called Wizorb! Explore many strange places from the derelict monster infested town of Clover to Gorudo Castle atop Cauldron Peak. Danger lurks around every corner so you'll need to keep your wits about you and have quick reflexes in order to survive. ) runs on iPhone & iPad. BUY NOW

 

Dungeon Village – Price : $3.99  – Publisher – Kairosoft (Welcome to an epic RPG world in which the town you build can grow from humble hamlet into a mecca for the land's most ambitious adventurers! The enterprising warriors that stop by your blossoming burg will defeat monsters and earn you money. Conquering dungeons and clearing out hordes of monsters will bag you loot to stock your shops. And if your hamlet flourishes, adventurers will want to set up house and settle down!) runs on iPhone & iPad. BUY NOW

 
Judge Dredd: Countdown Sector 106 – Price : $5.49 – Publisher –

Tin Man Games

 (Drokk! It's an adventure game. It's an interactive book. It's an RPG. You are Judge Dredd, the toughest judge to patrol Mega-City One, a vast futuristic city, set in the 22nd Century! You, the reader, control the direction of the story by making decisions for Dredd on each page, and choosing your path. Using a realistic dice-based battle system, you get to fight your enemies in exciting shootouts and roll your fate, as you use your array of skills against a variety of perps in an epic storyline.

) runs on iPad.

BUY NOW

 
Atlantis 2 HD – Price : $1.99 – Publisher –

Microids

 (A thrilling new adventure in the heart of Atlantis. Play the role of Ten, a descendent of Seth, the hero of the first Atlantis. The forces of light and dark have awoken and are preparing to fight. Ten carries within him the powers of light. His destiny is to fight his mortal twin. His quest leads him on a dangerous journey through Tibet, Ireland, China and Yucatan.) runs iPad & iPhone. BUY NOW
 

Stolen Beauty HD: Fashion Mystery – Price : $5.49  – Publisher – Nevosoft (Take part in exciting investigation! You play from the perspective of Eva Sanders, a journalist working at a popular fashion and beauty magazine! Eva goes to Carnival in Rio de Janeiro, but instead of revelry, an exciting investigation begins!) runs on iPhone & iPad. BUY NOW

 

Alien Breed – Price : $5.49  – Publisher – Team 17. (The original Alien Breed is back in action, celebrating its 21st Anniversary! Alien Breed is the classic sci-fi, top-down shooter developed by Team17. Launching originally in 1991, Alien Breed has now been remade for iOS, which can only mean one thing… it's time to turn down the lights, turn up the sounds and encounter Alien Breed again!) runs on iPhone & iPad. BUY NOW

 

Plight Of The Zombie – Price : $2.99  – Publisher – Spark Plug Games. (We are tired of all of these zombie games designed for those apathetic people who just want to kill poor, innocent zombies all the time. They're just hungry! Plight of the Zombie features: Play over 30 deliciously brainy puzzles, More levels being offered after release, Be one with your inner zombie as you nom on yummy brains, Support a savory cause by helping end zombie hunger, Appetizing store with plenty of tasteful accessories for your zombies) runs on iPhone & iPad. BUY NOW

 
Justice League: Earth's Final Defense – Price : $2.99 – Publisher –

CJ E&M

 (The all-time DC Super Heroes are in one game! DC comics' 5 super heroes-Superman, Batman, Wonder Woman, Green Lantern, and Flash-are standing together against Luther and the Villain. 

) runs on iPhone & iPad.

BUY NOW

 
Acheron Prime – Price : $6.49 – Publisher –

InsurgentX Entertainment

 (Acheron Prime is a space shooter RPG set in the dystopian future of Earth and its colonized planets. Presented in a traditional jRPG style blended with western Sci-fi elements, stunning HD graphics, and an engaging storyline, Acheron Prime is a must-have for all fans of this genre. Join Kirika, an expert Cyborg Pilot as she tries to uncover an interplanetary conspiracy and learn more about her past. Join or rebel against four fully formed factions each with its own goals and agendas and find the secret behind the mysterious Acheron.) runs iPad & iPhone. BUY NOW
 
Kid Vector – Price : $1.99 – Publisher –

UNCADE

 (Ever wish games were fun again, like when they were lovingly handcrafted line segment by line segment that your grandpappy used to make? Ahhh, those were the days. Yep, back then you played a game, instead of watching it through cutscenes. You didn't need no fancy whizbang graphics either, and the dragons looked vaguely like ducks. Yes, Kid Vector is an homage to a simpler time, when games were only about fun, children listened to their parents, and coins were collected instead of bought in packs for $24.99.) runs iPad & iPhone. BUY NOW
There you have it folks, these games should keep you busy for quite some time, well till next week at least. I'll be back next week for another dose of iOS goodness, in the meantime if anyone would also like to suggest their own suggestions, please feel free to share them in the comments section below or in the iOS forum section on the site here.
Remember kids, Play Hard Or Don't Play At All!