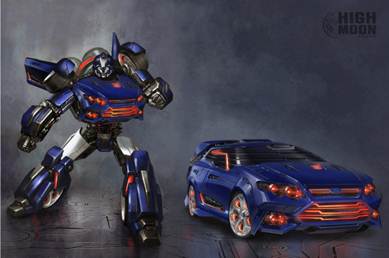 Australian Ford fans got the chance to design a new Transformers character (sorry Holden lovers), voting on the colour, make, and name of the new character while an art team over at High Moon Studios brought it to life and presented the concept as a quite worthy Transformer.
With the help of thousands of fans of the Ford Australia and Ford Falcon Facebook pages it was decided that the new Transformer would be Ford Blue, obviously, with the classic and super sexy XR6 Turbo Sedan, and that he would be named Falcatron. Originality was a little lacking in the name choice perhaps, but hey you can totally see where they got the name from. The fans also decided that Falcatron would side with the Autobots, making him a good guy.
Think you could do better? Well Transformers: Fall of Cybertron lets you create your own character, with the most advanced customization ever experienced in a Transformers game, and use that character to have it out in head-to-head Autobot vs Decepticon matches in competitive multiplayer mode.
Transfromers: Fall of Cybertron is available NOW for Xbox 360, PS3 and PC. Grab a copy of your very own today!