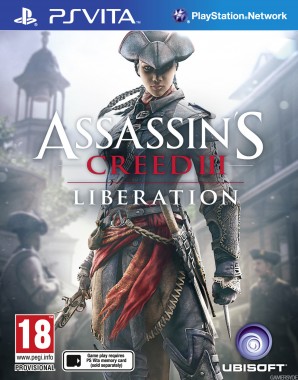 Ladies and gentlemen, some box art for your consideration. Today we have the Assassin's Creed III Liberation cover, starring the rather piratical heroine Aveline. There isn't much to be told from this fairly simple fare that we don't already know, but sometimes simple is best.
The game is drawing ever closer to simultaneous release alongside it's console big brother, and is looking to be one of the must haves for the Vita.
Something actually worth noting is the provisional rating slapped on there – a PEGI 18 that seems to promise plenty of full on action. Time will tell exactly what the game has in store, but for now Liberation is certainly high on the Vita watch list.
Assassin's Creed III Liberation will hit stores on October 31.