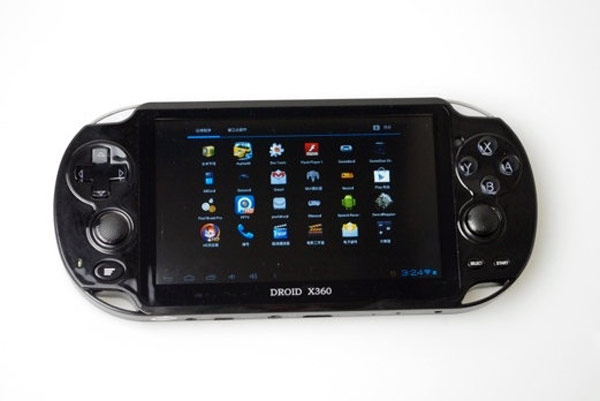 It looks like people just can't get enough of copying names and designs or products lately, or at least that is what it seems like when the China based company: Long Xun Software has decided to create a PS Vita look alike that is named the Droid X360.
As you can see, they are just asking to be sued for copyright infringement, stealing patents, etc. The design for this system is exactly the same as the PS Vita, from the D-pad to the joysticks, it is all the same. The name of the device also appears to be something that was lifted from both Microsoft and Motorola, which is plainly evident to anyone paying the slightest attention.
The device runs on Android 4.0 and includes: front and rear facing cameras, 8GB of internal storage, and comes preloaded with games that have been illegitimately lifted from other devices. There have been reports that the device will include games such as: Mario N64, Mario Kart N64, 40-Winks, Bomberman Heroes, F-Zero X, Rockman, Batman NES, Super Smash Bros., Final Fight, and Cadillac's and Dinosaurs.
Considering it runs on Android 4.0 it should also be able to run games like Angry Birds and Temple Run. If anyone even wants this phony machine you'll have to head over to China to purchase it.