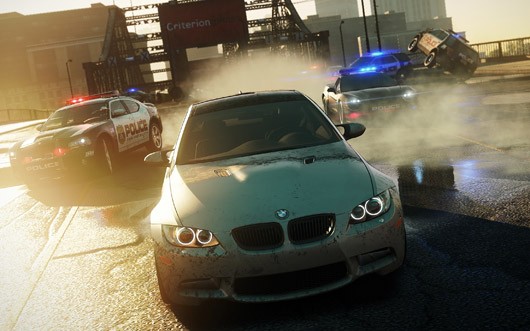 At selected retailers, JB Hi-Fi and EBGames, players will be able to receive one of three pre-order bonuses to come with the upcoming game Need for Speed Most Wanted. The pack bonuses are specific kinds of vehicles with specific kinds of modifications that give players a style that fits their form of play.
The packs make use of the kinds of different kinds of strengths. The packs are each as follows, Strike Pack, Power Pack and Speed Pack. Players who also pre-order now, or soon to now, will also recieve the Limited Edition pack which includes a couple of cars for multiplayer use, as well as four hours of double speed points during the first few hours of multiplayer.
The full Limited Edition pack with Pre-Order bonuses is as follows –
Multiplayer bonuses included in the Need for Speed Most Wanted Limited Edition include:
·         Four hours of Double Speed Points: Players earn double speed points throughout the first four hours of multiplayer
·         2012 Porsche 911 Carerra S: Optimized Aerodynamic Body that reduces drag for maximum speed and Nitrous Burn, delivering efficient and sustained speed boosts
·         Maserati GranTurismo MC Stradale: A Race Pack Powertrain tuned for increased power and the impact protection modification to provide increased stability and strength when driving at breakneck speeds

Pre-order packs now available at select retailers will include early access to multiplayer cars with unique modifications that fit different play styles:
·         Speed Pack at EB GAMES Australia & New Zealand: The Caterham Superlight R500 in the exclusive Satin Black livery, featuring the Track Tyres Modification for improved road handling, and the Lightweight Chassis Modification allowing players to reach mesmerizing speeds
·         Power Pack at EB GAMES Australia & New Zealand: The Ford F-150 SVT Raptor in the exclusive Satin Black livery, featuring the Reinforced Chassis Modification for taking increased damage, and the powerful and violent Nitrous Dump Modification for making tight jumps and powered up takedowns
·         Strike Pack at JB HI-FI Australia & New Zealand and at Mighty Ape New Zealand: The Mercedes-Benz SL 65 AMG Black Series in the exclusive Satin Black livery, featuring the Power Pack Powertrain Modification for an engine tuned for torque, acceleration and the ability to reach breakneck speeds, and the Re-inflating Tyres Modification making it easier to survive and counter rivals' attempts to slow players down
Be sure to head down to the store that deals in the corresponding package that you wish to receive now. The game is releasing on November 1st on all major platforms. Be sure to check out the official website for more info.