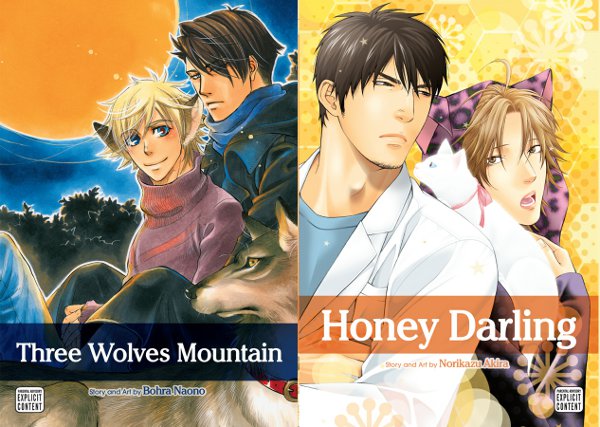 SuBLime, I'm guessing the BL is for Boys' Love, partnered with VIZ Media and Animate Ltd has released two yaoi manga this month which are available in both physical and digital editions.  The two releases, which you can see the covers above, are Three Wolves Mountain by Bohra Naono, a creator of over 20 manga series, and Honey Darling by Norikazu Akira, creator of Twin's Labyrinth, Heart Strings, and Beast & Feast.
Three Wolves Mountain focuses on the relationship between Kaya Susugi and a pair of brothers he meets, Taro and Jiro, who also happen to be werewolves.  The story tells the tale of Jiro, the younger of the two brothers, falling for Kaya and what unfolds thereafter.
Honey Darling has Chihiro finding a new lease on life after finding a stray kitten, but when it becomes ill, his life takes even deeper meaning after taking the kitten to the animal hospital and wanting to become a vet.  Unfortunately, that requires becoming the live-in housekeeper to the handsome veterinarian, Kumazawa.
As can be seen from the covers the manga are in fact "M" rated, so don't expect these to stay clean.  Interested readers of any persuasion can get the books in physical copies for $12.99 US or $14.99 CAN, or worldwide as digital downloads in PDF format for $5.99 from the SuBLime website HERE.