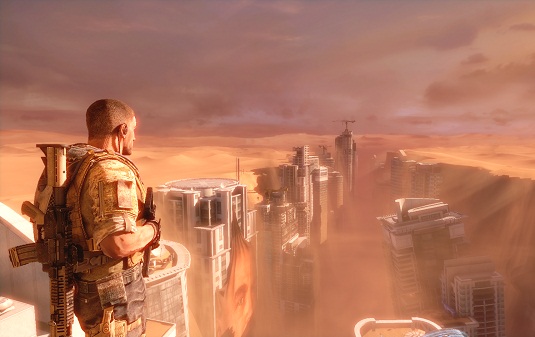 Last night 2K Games threw a launch party for their new shooter, Spec Ops: The Line. Everything had an awesome army feel to it and they let us try out the game, with some headsets hooked up. Unfortunately the loudness of the music meant that we couldn't quite make out the dialogue or the quips that the soldiers trade back and forth, which are one of the things I actually quite like about the game.
On the surface Spec Ops seems to offer nothing more than any other game in the shooter genre, however it is definitely a game that deserves more attention. Just by playing it for a short amount of time, there is already such a different feel. There is more weight to your actions and what you do, because there is an actual story line to the game. Story and characters is an important aspect of a game for me, and usually something that is lacking in shooter games. Usually, shooters have the character development that can be expected from a game where the most important aspect is how many head shots you can get.
Unfortunately, this whole 'character and story development' isn't something that really appeals to your standard shooter game player, unless they're after something that is a rarity in the genre. So if you are a shooter that's looking for something different while keeping that familiar gameplay, or someone who isn't usually a shooter fan for the same reason as me, then this is a game that you should look at trying out.
Spec Ops: The Line is being released on PC, Xbox 360 and Playstation 3 on June 29, 2012, or the 26th for the US. Keep an eye out on Capsule Computers for a review of the game!