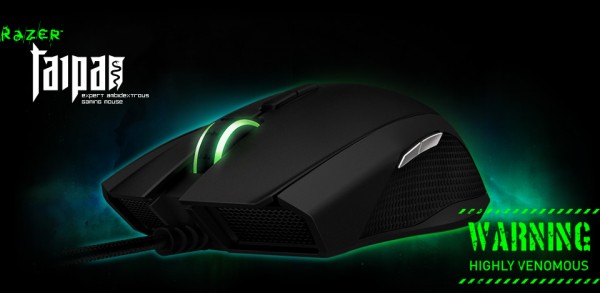 One of the world most leading video game peripheral makers, Razer, have announced some details for their upcoming Taipan mouse at this year Electronics Entertainment Expo (E3). The Taipan mouse is a peripheral designed for ambidextrous gamers, which means that it can be used accurately in both the left or right hands.
This is a kind of mouse that many left-handed gamers will find useful, as well as those that would prefer to be doing other things with their right hand while surfing the web or playing some kinds of games. One of the best features of this mouse though, is that it utilises both Laser and Optical tracking, making it much more precise and accurate. It also has liftoff detection for those times where you're frantically throwing your mouse around.
Here is an interesting quote from Razer –
"We have designed the Razer Taipan with the goal of offering pro gamers the best weapon to achieve victory in the competitive world of e-Sports," said Robert 'RazerGuy' Krakoff, president of Razer USA.  "The Razer Taipan is engineered to deliver an astounding 8200 dpi 4G Dual Sensor System to provide gamers with the fastest mouse tracking, enhanced ambidextrous ergonomics and Razer Synapse 2.0 support. Anything is possible with the Razer Taipan."
Gamers will be interested in knowing that the mouse is going to be available as early as July and will retail for $79.99US. Be sure to check out the Razer Product site for more info.