Endless Space is a space strategy game where players are tasked with galactic conquest against other factions which can be controlled by either another player or the AI. In Endless Space, players choose a faction and must build their empire from a fledgling home star system to a galaxy consuming beast in an effort to be the most dominant race in the cosmos. For this preview, two of our editors – Benjamin Webb and Jamie Laike Tsui – have teamed up to tackle the game and give their combined opinions on the games direction. This preview will be more of a discussion instead of our usual format of writing about whatever comes to mind.
Please note that the game is still in BETA and things are likely to change around between now and when the game is actually released.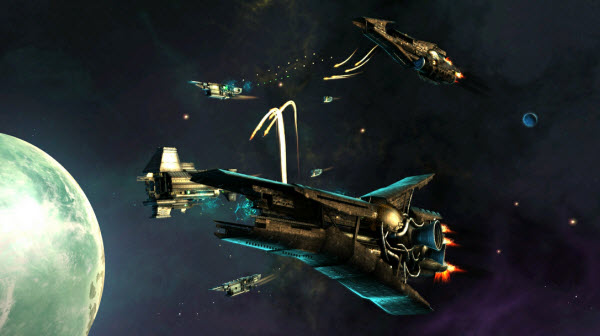 Benjamin
I felt that the visuals worked for this game quite well, even if they don't particularly run your PC to the ground like many other titles do. This means that players will be able to run this quite well on most gaming rigs, instead of just the super-hardcore-rich gaming master-race PC gamers that are running 30 monitors across 7 graphics card in a room that only has computer components scattered about it.
But on saying that, I also felt that sometimes they were a little too basic, especially in the galaxy view where you could only really see one of your fleets. I would have loved to be able to select individual fleets, as opposed to clicking on a ship resting on a sun and then selecting a fleet. Or, at the very least, see what my fleets are doing whilst I'm sitting around and waiting for other players.
Jamie
Visually, Endless Space is a winner. Although impressive 3D graphics and animations exist in Endless Space, it is used sparingly. Players spend a majority of their time navigating a myriad of menus. 3D graphics are reserved for the ship design menu and manual fleet battles. However, the animations for the manual fleet battles are fantastic. Battles have plenty of explosions and special effects to satisfy the biggest Michael Bay fan. My only wish is that there are more variations to the fleet battles. After a while, I noticed the fleet battle seemed to be the same animation sequenced rehashed over and over, with the only change being the participants of the battle.
The Galaxy view is slick and well executed. The backgrounds are filled with pictures of the universe that could easily be from NASA's own telescopes. I found the view to be extremely easy to understand, allowing me to quickly survey a situation with a quick glance. Overall, I found the visuals to be impressive, although I would like to see more variety in the fleet battle sequences.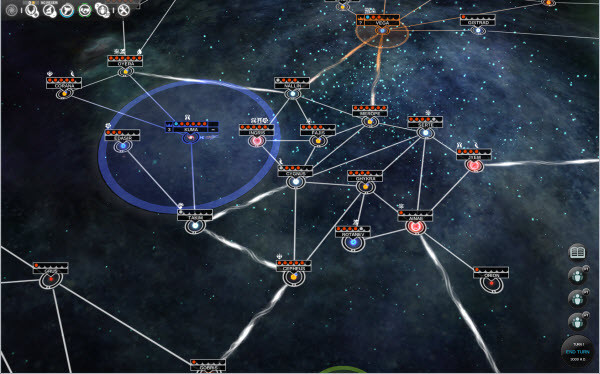 Benjamin
The audio in Endless Space, I felt, is quite bland. There is only so much of the space overworld theme that you can take before you turn the volume down and crank up your own playlist in the background. While I can understand the reason behind the tune, inducing a player's thinking processes, there needs to be a greater variety of these tunes with varying arrays of dynamics to truly lift the scenario. Imagine if you had to play a game for hours only to be listening to that one tune over and over again, that one tune that is the only tune, over and over again. You too would turn the music off, no? Other than that, everything sounds as it should and the music in the space combat is pretty entertaining. I just feel that it could use a little more work before it is released to the public.
Jamie
Personally I appreciated the subtle music in Endless Galaxy. The music gives players the feeling of the vastness of space. According the website, additional tracks are currently in development. I believe adding a greater range of dynamics to the new music would not be the way to proceed. Endless Space could easily be described as chess in space. Considering the deep thought and strategizing that goes into the game, I feel the music remaining unobtrusive would be for the best.
Benjamin
For a game that doesn't come with an instruction booklet, tutorials would be a great way to learn how to play this game. Unfortunately, at the moment, these only exist as tooltip pop-ups during gameplay that are incredibly light on details and do an incredibly bad job at describing things. Even after reading all of the tutorials I still had no idea what was going on and had to learn to play on the fly. To be honest, I still have no idea on what's going on, but I seem to be doing better than I was initially.
Jamie
Players of MMO games may recognize an old meme showing a graph depicting the learning curves of popular MMO's such as World of Warcraft and Lord of the Rings Online in comparison to EVE Online. EVE Online was depicted to have a cliff of doom where small stick figures died in a variety of gruesome stick figure deaths due to the learning curve. I had a déjà vu of EVE Online on first play through of Endless Space. And the second, third, and fourth play through. Part of the problem is the low quality of the tutorial. For a game as complicated and deep as Endless Space, it was a huge surprise to find the tutorial in the game was simply screenshots and a wall of text explaining how basic gameplay was done. I feel a game like this would at least have a tutorial mission where new players are hand held through their first mission from beginning to victory. Considering the tutorial quality of most major game releases today, Endless Space has a lot of room for improvement on easing the steep learning curve.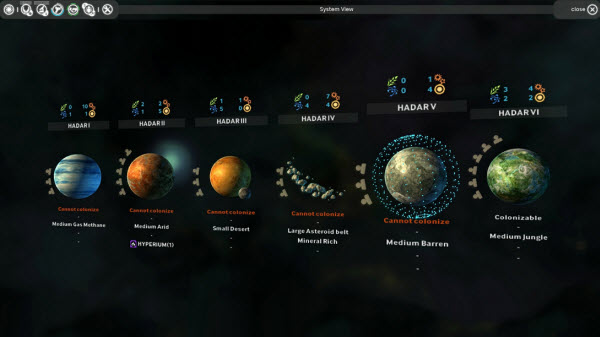 Benjamin
Endless Space is like those classic games where you get a solar system, inhabit the planets and then go on to conquer the next system. It is also a lot like Civilization in its technology trees and its diplomacy between factions. This is the kind of game that you would either play as a single player campaign or at a LAN with a group of friends.
The space battles in this game are incredibly fun to watch the first few times or when there's potential for an epic battle to ensue. However, most of the time you'll be watching a small fleet of your own ships taking on a group of pirates which gets old incredibly quickly. The main part of the combat is the selection of various tactics that lock in and anything after this is purely observational. I found that the combat in this game was a kind of scissors-paper-rock ordeal, but with more options. For instance, Defence will beat Offence, but Sabotage will defeat Defence. Learning these mechanics is a must for tactical expertise. Or you can skip it all and set the combat to automatic and have the AI look after it.
One aspect of gameplay that really annoyed me was that I have no idea why I couldn't sometimes move my ships from one system to another. I understand that each unit has a maximum number of moves it can make per turn, but if I have two systems that I control and are connected by regular space and not a warp-hole-thing, then why can I move NONE of my units, even if I could move that same unit in the last turn? Maybe this is just a bug in the Beta version or a quirk of my chosen race, but it was still annoying when I couldn't even move to defend my own territories.
Jamie
Endless Space is best described as Risk meets Civilization in space. The game has an extremely deep research tree and multiple ways to win the game. I really appreciated the depth of the game. I found myself tinkering endlessly with the game in one save, yet on another game I was able to leave the fine details up to a very capable AI. Combat can be done through an automatic mode that quickly crunches the numbers and provides the results immediately or a many rock paper scissors mode. I found the execution of ship battles to be a fun idea, but after a while I realized these battles could take a fraction of the time considering three options are selected and the battle carries on. There were some bugs that ranged from minor glitches to serious gameplay oddities that made little sense that hopefully will be ironed out for final release.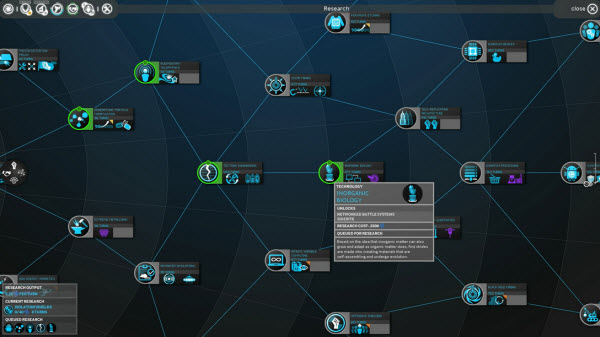 Benjamin
The UI for this game, I found, was way too simplistic. For such a complex game, a simple UI is not the way to go. I would like to see more buttons that do more things, I want to customise the way my UI looks. I would also love to have a more obvious way to issue commands from the UI.I mean, it does work, but does it work the best that it could? Not really. If I'm right-clicking to move my fleets, and none of them are moving, and the game is not telling me why they're not moving, I am sitting there in a fit of rage and not understanding anything. Give me buttons to move my units, give me a toolbox that tells me why I can't do
something.
Jamie
I on the other hand really liked the UI. Coming from a Starcraft background was a tad jarring considering Starcraft heavily emphasizes the use of the right mouse button to issue commands. I found the left click to select/right click to cancel to be a rather intuitive set up once I became used to it.  However, I found moving fleets around to be extremely awkward as I was required to right click a star system to move my fleet. This was counterintuitive to everything I had learned beforehand. I would also like to see an error message explaining why fleet movements cannot be completed. For example, it took several tries before I figured out exactly what research I needed to complete before I could move my fleets through wormholes. I had no idea why I was unable to move my fleet through a worm hole or what research I could use to address the situation. The lack of information and feedback provided to the players plays a huge role in the killer learning curve in Endless Space.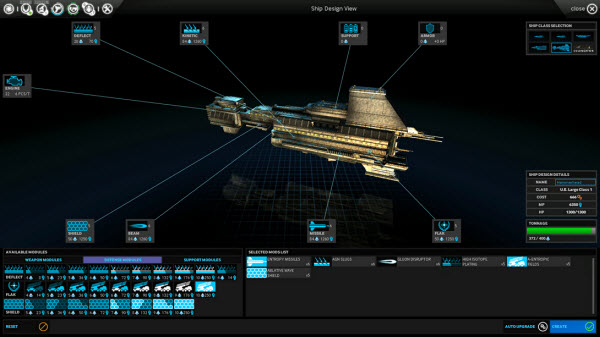 Benjamin
As I said earlier in the gameplay topic, I think this game would work better in a LAN setting than it would in an internet setting. However, the games reliance on Steam makes it impossible (at the time of writing) to set up a LAN match between friends. However, that's not to say that you and your friends couldn't just run it off one router or something at someone's house. It just seems counter-intuitive, given the game type, to not have a local option. One MAJOR gripe about the multiplayer in this game is that when the original host drops, all clients error out without the ability to save the game state for if the host returns. It would be nice if there was some kind of host-migration or an auto-save feature so that players could pick up where they left off. Just remember that this is a pre-release build and things may still change in this regard.
Jamie
Overall I see a lot of potential in Endless Space. The developers seem extremely keen to work with the player base to develop Endless Space. The game is extremely deep and can easily causes hours to disappear from my day. Visually, Endless Space is satisfying and the audio melds seamlessly into the experience. I would have liked to seen more variation in the fleet battles and hope to hear more high quality music tracks to listen to. There are some bugs that need to be ironed out, but of course that is what beta testing is for. However I feel the developers could really work on a better tutorial and tooltip/feedback system for players. This would help ease the already high learning curve. Endless Space has been an impressive beta and I look forward to the final release of Endless Space.