Calling all dungeon defenders! Trendy Entertainment is happy to provide you an opportunity to win some hard earned cash in their first "Dungeon Defenders Map Contest"! The first prize winner will have their map purchased for $1,000 that will be implemented into the game's Ranked and Open modes.
Here is the simplified version of the rules:
Maps should be traditional Tower Defense, supporting 4-6 Heroes. Use of special mechanics like fans and magic carpets is fine. Boss fights are also allowed.

Use of custom materials is allowed.

Collaborations are allowed. Multiple authors can pool their talents on a single submission, and split any prizes that may be awarded. However, only 1 map per author is allowed.

Maps created prior to the start of this contest are ineligible.

Do your best to make the map actually work. You will not be disqualified if the map contains errors. I.e. a particular monster spawn is broken, last wave doesn't end properly, whatever. However, you will suffer a small penalty in the scoring process.

Entries must be submitted no later than June 21 at 11:59 p.m. EST.
The judging procedure will be based on the following categories: Balance, Originality & Style, Detailing, and Optimization. Balance is necessary to provide a continual flow to gameplay. This means the map should be functional and planned out thoroughly. When thinking of originality and style, an author's original touch is the focal point. Creating brand new content will definitely provide for an unique experience. Detailing will be judged by how the level is completed with created or provided objects as well as the compliance with the nature of Etheria. Lastly, optimization will be measured by lighting, monster pathing, border restrictions, and even file size. For example, an author would be docked points for having a pit that did not kill a character.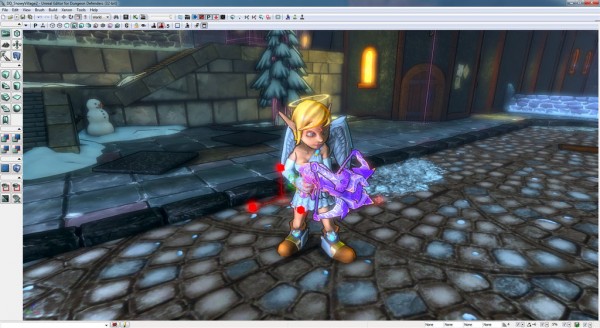 With the judging procedures discussed, authors then are ranked and scored by a collaborative system. Most importantly, the map is scored by a public majority. The viewing public's vote will be worth 60% of the total votes as the Dungeon Defenders judges table will provide the extra 40%.
There must be more than just the $1,000 prize, right? You're damn skippy there is! Here is the breakdown of prizes:
1st Place: $1,000 with map featured on Ranked and Open modes; Dungeon Defender pack (TBD)
2nd Place: $500; Dungeon Defender pack (TBD)
3rd Place: $250; Dungeon Defender pack (TBD)
4th Place: Dungeon Defender pack (TBD)
For those interested in winning some money, download the Dungeon Defenders Development Kit for free after purchasing the title on Steam. To help your chances take a look at some of DDDK tutorials.
Plunder those dungeons, and grab for the gold!