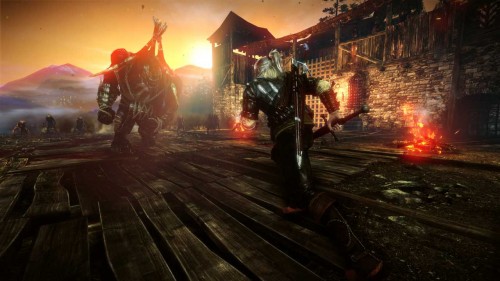 There's only two more weeks until The Witcher 2: Assassins of Kings Enhanced Edition hits store shelves for Xbox 360, but CD Projekt have announced that copies of the "Dark Edition" (Collector's Edition to you and me) have already sold out in the United States.
Michael Nowakowski, a member of CD Projekt's board said:
It's great news for us, that the Dark Edition was such a success worldwide. I hope players will appreciate the gadgets we prepared for them. We'd like to remind you that there are still remaining copies of The Enhanced Edition of The Witcher 2.  By buying this version of the game you still get more than you would  expect from a standard Xbox game. Apart from the manual and the game itself it contains an official soundtrack CD, a quest handbook and a world map.
The Enhanced Edition of The Witcher 2 provides four hours of additional content from the original PC release and features clearer, more-fleshed out endings for the game. So if hunting monsters, hardcore games, or things that put the "Mature" in M-Rated are your thing, then be sure to mark your calendars for the game's release on April 17th.
Oh, and if you're a PC gamer, don't fret, you'll be getting these Enhanced Edition updates as a free DLC on the same day.