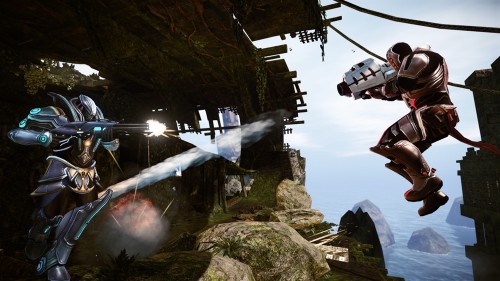 THQ and Machinima today announced the immediate launch of a public PC Beta for Nexuiz, an FPS already on Xbox 360 thanks to the Xbox Live Arcade House Party action in February.
Places are limited, and access keys can be claimed on a first come, first served basis via Alienware's website at AlienwareArena.com/Nexuiz
Nexuiz is now scheduled for release on PC on May 3rd, with a suggested retail price of $9.99, and substantial PC-specific enhancements.
"PC is the home of the Arena Shooter" said Kedhrin Gonzalez, Creative Director at Illfonic. "We've been working hard to make the PC version of Nexuiz the best we can, and add the features and support that the discerning PC audience expects. This Beta will help us fine tune our online service, and we hope players will have a blast with it."
The PC version of Nexuiz will include a number of enhancements and changes over the console version including:
Dedicated Server Support and Game Browser
Enhanced, CryENGINE 3 powered graphics with DX11 support
Advanced custom controls, new HUD and a 15% increase to player speed for ultimate twitch-shooter experience – and Immersive feedback utilizing Alien FX by Alienware!
More details can be found on the Nexuiz community forums at Forums.Nexuiz.com
Nexuiz for PC is now available to pre-order from the THQ store at http://thq.me/dTS or on Steam at Store.Steampowered.com/app/96800 with a 10% discount applied to all pre-orders.