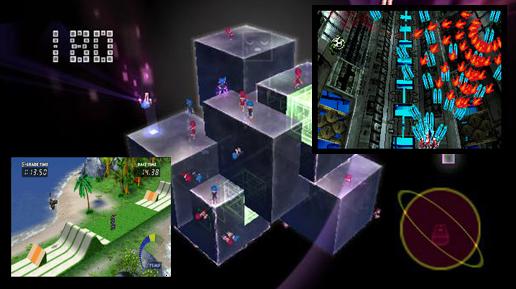 It's rewards time yet again and those who have saved their coins on Club Nintendo can now choose from three new games from the Wii and 3DS eShop to download. This month, the offerings are a bit more obscure, but are sure to catch the interest of fans of puzzle-fanatics, shmuppers, and those who get excite over the bike.
The first reward up for grabs is the two-player cooperative "You, Me, and the Cubes" on the WiiWare, and is priced at 200 coins. This action/puzzle romp has players use the Wii's waggle controls to place little creatures on moving cubes. Yes, it's a simple concept, but You, Me, and the Cubes is still an excellent and addictive little game that is certainly worth adding to one's digital collection.
Excitebike: World Rally really needs no introduction, as it came out quite some time ago and introduced the world to a whole new way to play the classic. Along with online play and motion-based controls, this remake revived the once forgotten Nintendo staple and can be purchased for 200 coins as well.
Finally, for those of you with a 3DS, the bullet hell shootemup Metal Torrent can be bought for 150 coins. While short as a whole experience, Metal Torrent adds an online leaderboard for the competitive and has players shoot their way through waves of enemies while dodging heavy fire.
Ya know, it's kind of an interesting move for Nintendo to be offering up this lot as rewards, as I personally enjoy seeing the more under-appreciated gems offered up, rather than the obvious choices that most of us bought on day one. Either way though, you can log in your account and go redeem now, and come back next month for May's update.