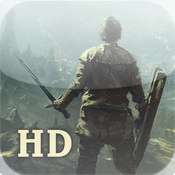 Avernum: Escape From The Pit HD has been released today for the iPad platform, which is Apples tablet device running on the iOS software. The game is a top-down RPG, reminiscent of more classic titles, such as Baldurs gate.
In Avernum, the overworld is ruled by a Tyrant and anyone who acts out of line is banished to Avernum, which is a small locale at the bottom of a volcano. Of course, not everyone has been broken by this system and some are taking up arms against this tyrant.
Avernum: Escape From the Pit features:

Epic fantasy adventure in an enormous underworld.
Huge outdoors and eighty towns and dungeons.
Three separate game-winning quests. Seek safety, escape or revenge. Do just one of them or all three!
Unique races and settings make Avernum different from any adventure out there.
Dozens of side quests and hundreds of magical artifacts.
Rich game system with over 50 spells and battle disciplines and a multitude of beneficial character traits to choose from.
Be sure to buy it now from the iTunes app store.