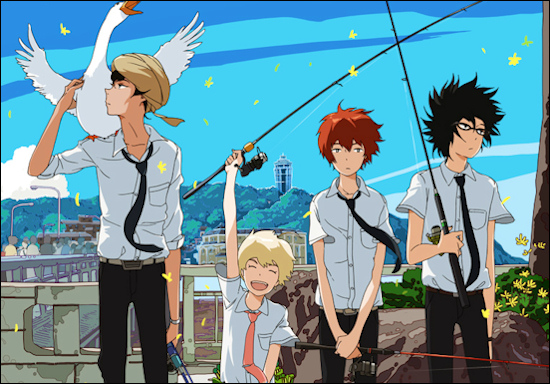 Kenji Nakamura made a name for himself with his offbeat and intelligent anime series Ayakashi – Samurai Horror Tales and C – The Money of Soul and Possibility – Control. He is now returning once again to the anime block he helped make famous, noitaminA, with his latest anime effort, a sci-fi fishing anime series called Tsuritama.
Tsuritama is set in an island town in Japan and with the central focus of fishing. The series focuses on a colourful cast of characters ranging from a quarter French quiet high school student Yuki, to the mysterious Indian Akira with his Duck companion Tapioca. That is certainly an interesting mix of characters.
You can check out the trailer for Tsuritama below. Be sure to let us know what you think in the shoutbox and comments section. Tsuritama is set for release in the Spring 2012 anime season.