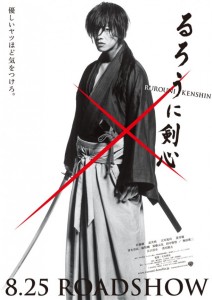 The theatrical poster for the live-action adaptation of Nobuhiro Watsuki's legendary samurai manga classic Rurouni Kenshin has been revealed. The poster features the photography of award-winning photographer Kazumi Kurigami.
The poster can be seen to the left (click to enlarge), it features Himura Kenshin in a gray scale with the infamous red 'X' highlight in front of him, with the tag line 'Watch out for the Nice Guy' blazoned besides him.
What do you think of the poster for the Live-action Rurouni Kenshin film? Let us know in the shoutbox and comments section. The film is set to premiere across Japan on the 25th of August, 2012.