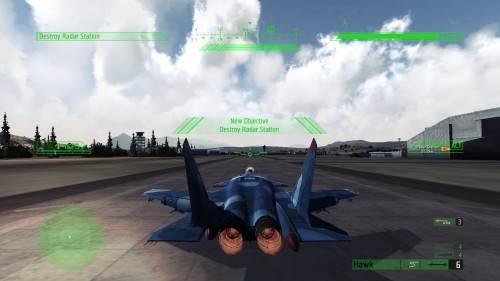 Action flight simulator Jane's Advanced Strike Fighters is now available across the UK for the Xbox 360, Windows PC, and PlayStation 3. In its exciting campaign mode, Jane's Advanced Strike Fighters offers 16 missions and a territory of 65,000 square kilometers with mountains, deserts, and urban landscapes.
Besides the single-player campaign, Jane's Advanced Strike Fighters features various multiplayer modes. Up to 16 players can take part in free-for-all battles in the dogfight mode, destroy the enemies team headquarter in the base assault mode or fight in teams against rival players in the team dogfight mode. Players can set battle conditions such as the number of rounds and available aircrafts themselves to keep the multiplayer experience captivating for a long time. Up to four players can cooperate to tackle the campaign missions together.
While playing Jane's Advanced Strike Fighters, gamers can take a seat in the cockpit of 30 different types of fighter jets from the USA, Russia, Europe and China. The game contains aircrafts from the last 30 years and considers the technical specifics of each warplane as well as the different roles that indicate its use, such as fighter jets, ground attack airplanes and multirole warplanes.