With the release of this year's BIGGEST mech shooter on the horizon, NamcoBandai have released a walkthrough style video on Youtube that shows off some of the specific gameplay elements of Armored Core V. Entitled 'Multiplayer, Customization and Bosses' the video is a brief 5 minute explanation of the game's facets described in the title. Narrated by FilthyRich of BandaiNamco games, we are first given a look at some of the various returning customization options, but more importantly, some of the brand new ones to be featured in Armored Core V. From colour schemes to emblem designs, to the different new types of weapons, including the aptly named 'ultimate weapon', including the almighty Grind Blade, the ultimate melee weapon. The video also includes a few gameplay demonstrations showing off the giant boss battles which are promised to be "harder than ever".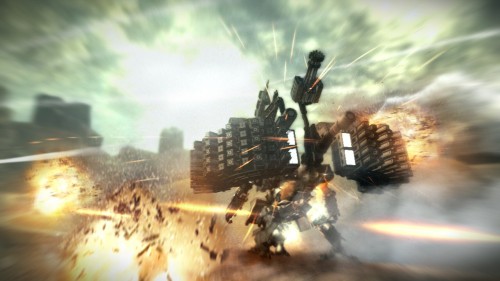 Below is the official press release from NamcoBandai, as well as the video itself. Enjoy!
COME HEAVY OR NOT AT ALL.

In a future world where the arid lands have been ravaged by war, the resistance will rise up in ARMORED CORE V, the latest title in the renowned mech-action franchise developed by the critically acclaimed studio, FromSoftware, and releasing on March 20th in North America.

FEAR NOTHING.

FORGIVE NOTHING.

DESTROY EVERYTHING.

In today's video, NAMCO BANDAI Games America's Community Manager, Rich 'FilthieRich' Bantegui, takes a deep dive into the customization, weapons, and bosses that players will be finding in the latest action-epic, ARMORED CORE V when the game launches to on PlayStation 3 and Xbox 360.

NAMCO BANDAI Games America Inc. would also like to remind ARMORED CORE fans that when pre-ordering the title from GameStop® stores across North America, as well as GameStop.com, they will gain exclusive access to the 'HEAVY ASSAULT PACK' while supplies last.  The pack will feature over 168 parts and powerful weapons that will help give players a competitive advantage on day one in the innovative and sophisticated online multiplayer battles of ARMORED CORE V.

Players ordering from AMAZON.com will also gain access to the exclusive 'RECON PACK' which includes starter and advanced packs as well as unique high-speed weapons.