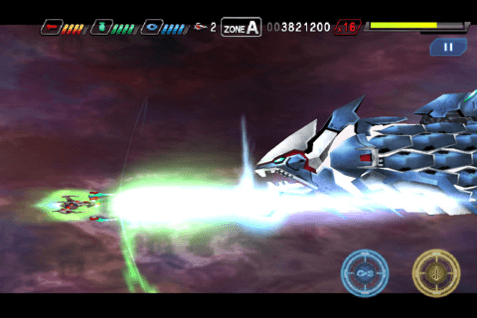 Here we are again, MasterAbbott is back for this week's iOS Game Suggestions. If you missed out on last week's suggestions, click on the links below and check what cool games you should be picking up for your iOS along with the introduction and disclaimer on how my suggestions work, as I'm not going through the same old intro every week. (suggestions 1 has the disclaimer)
MasterAbbott's iOS Game Suggestions
What I've also introduced is video game play footage (if it's possible) on some of the iOS games I've suggested, you can check this out at the bottom of the article. Currently video game play footage for this week's suggestions is DARIUSBURST SP, Armed & Gorgeous, Grooh , 100 Trials and VR Mission. Check back in a few days there will be some more added. For now, if you jump into week 2 suggestions there are a few videos to check out.
Once again it's been a great week on iTunes, so many amazing games were released, this week I've suggested well over my normal amount with a total of 17 great quality titles. As always for this week's suggestions I've added a few old games into the mix as they certainly deserve a mention. But of course the focus is still on the newer titles that you should also take a look at to spend your hard earned iTunes cash / time on.
This week I've focused an both 99c games and titles over 99c as there were some awesome and unique games released. These titles are all well worth taking a look at. Now lets get down to business shall we.
For The Cheapskates – FREE GAMES
Mike Tyson: Main Event – Price : FREE – Publisher –

Rock Live Inc.

 (Build your empire as a fighter by defeating opponents like DJ Pauly D, Mr. Chow and his friends in Bangkok, Nik Richie, the rock band All Time Low and of course, Iron Mike himself. Join the the RockLive network so the coins you earn save to the Liveboard of your city. Don't let your friends beat you! .) runs on both iPhone & iPad.

GET IT NOW FOR FREE

 
Save TheSushi – Price : FREE – Publisher –

Yogome.

(The Evil Queen Ignorantia has stolen Yogome's Golden Sushi! and you need to get it back! Help the heroes recover it, all you need to do is your multiplication super powers!  WAIT WHAT! Yes… this is an educational game that's not only fun but will teach the younger players their times tables.  With 3 different play modes, 30 levels and badges to collect this might even be fun for grown ups as well!) runs on both iPhone & iPad.

GET IT NOW FOR FREE

 
Dojo Madness – Price : FREE – Publisher – 

N3V Games

 (Dojo Madness plunges you fist first into a flurry of kung fu action! You must defend your Dojo by using lightening speed reflexes against the mighty Samurai Wolves of the west, the traitorous Turtles from the deep oceans in the south and the crushing Gorilla Gangs from the dark woodlands of the east. As these vicious foes surround you, you must use all your kung fu skills to defeat them. Your killer combos enhance you by harnessing supreme ninja warrior attacks that upgrade the longer your combos continue on. Your magic spiritual essences allows you to defeat your enemies with long range attacks. When trouble strikes, crouch into your Raccoon defence mode to rethink your strategy.) runs on both iPhone & iPad.

GET IT NOW FOR FREE
For The Bargain Hunters – 99c Games
 

MASTERABBOTT's 99c Game Pick Of The Week

The Lost City – Price : $0.99 – Publisher – Fire Maple Games. ( The Lost City is a classic point and click adventure game, with beautiful graphics that will draw you into this mesmerizing adventure.  With lots of items to collect and puzzles to solve along with an original soundtrack, The Lost City will keep you busy for hours on end as you attempt to discover the many secrets that the lost city has to offer.) – runs on both iPhone & iPad. BUY NOW

Game & Watch: Bank Robbers – Price : $0.99 – Publisher – 

Octius Company Limited

 (The most classic game that will you will forget in your 70s-80s!
Three robbers has broken in the treasury of a big bank but they don't know how to move out tons of money. Lets help the Robbers!! Catch the money which are thrown away from the bank and move them to the Robbers' truck. Simple but exciting game!  ) – runs on both iPhone & iPad.

BUY NOW

 
Raid Leader – Price : $0.99 – Publisher –

Crescent Moon Games.

(Help save the land of Eldentir from the evil and corrupted demon Belfanor and his invading legion of monsters. You, as the Raid Leader must guide a small band of Heroes through Eldentir and face the demon King in the final battle. Knight – Strong and vigilant. The knight likes to stand where it hurts – face to face with his enemy. Hunter – Fast and agile, the Hunter packs a lethal bow and arrow. She likes to shoot demons in the back! Priest – Old and wise, healing is his speciality. In the heat of battle he has a few other tricks up his rather big sleeves. Encounter challenging boss fights. Collect gold and invest in dozens of unlockable abilities. Test your skills against the oncoming hordes of darkness. Are you prepared?. ) – runs on both iPhone & iPad.

BUY NOW

 
End Night – Price : $0.99 – Publisher –

Ben Falcone.

(Days after a virus turns most of a small town into crazed killers, one man struggles to find a cure before it's too late. Free roaming, open based gameplay – You decide where to go and what to do. Survive on a knife's edge – loot weapons, ammo and resources to stay alive. Dynamic missions that change depending on your choices. Explore the town and find samples to create the vaccine. Split second decisions are the difference between life and death — Do I run or do i fight? Close range battles with infected enemies splatter blood and gore everywhere. ) – runs on iPad.

BUY NOW

Lode Runner – Price : $0.99 – Publisher –

Aleksey Eremenko.

(Lode Runner is it an outstanding game, where gold treasures need to be collected in 100 levels. Up to 5 enemies try to make it hard for you. You can run, use the ladders, climb along the bars and collect treasures. As soon as you have collected all the boxes and up until now invisible ladders can appear. If you have reached the most upper line of the screen, you will get into the next level. You cannot jump, but you carry a weapon with you, with which you can dissolve the bricks for a certain time. No matter how far you will fall, you cannot get hurt. ) – runs on iPad.

BUY NOW

Pop Corny – Price : $0.99 – Publisher –

nlogn

(His name is Corny… Pop Corny, and he loves popcorn! He has one dream, one goal, one vision… TO EAT ALL THE POP CORN IN THE WORLD!! Can you feed him enough to progress to the next level? But be careful as hunger takes over and Corny starts to black out! ) – runs on both iPhone & iPad.

BUY NOW
For The Millionaires – All games over $0.99
 

MASTERABBOTT'S Over 99c PICK OF THE WEEK

Dariusburst Second Prologue – Price : $11.49 (Publisher – TAITO Corporation (The shooting game classic has arrived! The DARIUS(SAGAIA) series made shooting game history with its unique atmosphere and sound design, and now the latest installment, DARIUSBURST, is available for iOS.  Featuring fully optimized controls and added content.  Based on the critically acclaimed handheld console game DARIUSBURST, this smartphone edition boasts intuitive, responsive controls optimised especially for touchscreens.) – runs on both iPhone and iPad. BUY NOW

The Tiny Bang Story HD – Price : $2.99 – Publisher – 

Colibri Games

 ( Life on Tiny Planet was calm and carefree until a great disaster occurred – Tiny Planet was hit by a meteor! The world fell apart and now its future depends only on you! Use your imagination and creativity: in order to restore Tiny Planet and help its inhabitants you will have to fix a variety of machines and mechanisms as well as solve puzzles in each of the five chapters of this game. Navigation is simple and intuitive. It doesn't distract you from the witty brain teasers, and you will be able to fully immerse yourself in the unique atmosphere of the game..) runs on iPad.

BUY NOW

 
Grooh – Price : $1.99 – Publisher –

digiDingo

(Grooh is a cute (and lazy?) monster that loves pineapples.
Today, Grooh decides to explore the abandoned "Feilong Castle". There's a huge dragon printed on the entrance door!! But most importantly, rumors say that there's a secret treasure hidden there, and *who knows*, maybe it's full of pineapples?
That's why you, oh mighty player, should help Grooh to find the treasure!) runs on both iPhone and iPad.

BUY NOW

 
BrainJewel – Price : $1.99 – Publisher – 

TribePlay

(BrainJewel takes you on a puzzle fueled journey through the mysterious lands of ancient Egypt. Prove that you are the smartest in unique and addictive mini-games that test your wisdom and courage as you battle to uncover the secrets hidden in the eternal sands.) runs on both iPhone and iPad.

BUY NOW

 
Armed & Gorgeous – Price : $1.99 – Publisher – 

Digital Worlds

 (A thrilling hack 'n' slash-style game in which hoards of ignorant peasants, knights, and wizards wage war on a charming demoness in her own dungeon.
Exciting original comics await you at the end of every level! And with Ragdoll physics, fantastic animation, and comics-style graphics, you'll never be bored! Conquer all the levels, beat all the bosses, reach the village and get revenge, gathering 11 types of weaponry and a variety of costumes for your heroine on the way!) runs on iPhone & iPad.

BUY NOW

 
BoxMan Rising – Price : $1.99 – Publisher – 

Goorusoft

(Dominated by gangs, the Boxman World is infested with disorder, crime and chaos. You've been training hard for a very long time. It's finally time to get rid of them. However, the gangs won't be that easy to deal with. Must get stronger, Must learn more skills, And I must be the world's strongest fighter.) runs on iPhone & iPad.

BUY NOW

VR Mission – Price : $1.99 – Publisher –

Sphinx Entertainment

( Your skills of Stealth, Intelligence, Bravery and full weapon knowledge will be putted to the ultimate test in this brand new stealth action packed real time strategy game as you lead an one man army into the very deep of the enemy's heart, your failure is not acceptable. This title is similar to a pocket Metal Gear style game.) runs on both iPhone and iPad.

BUY NOW

100 Trials – Price : $1.99 – Publisher –

Fusion Reactions

(Fight your way through hordes of monsters! Engage in fiendish combat puzzles on a quest to discover the truth behind the alleged death of the last wild demon. 100 Trials features: 100 levels using 4 unique playable characters, each with their own unique skills. 4 worlds with dozens of monsters and bosses.) runs on both iPhone and iPad.

BUY NOW
There you have it folks, these games should keep you busy for quite some time. I'll be back next week for another dose of iOS goodness, in the meantime if anyone would also like to suggest their own suggestions, please feel free to share them in the comments section below, or join the discussion in the forums. Check out the link below :
Remember kids, Play Hard Or Don't Play At All!
–
Gameplay Videos :
DARIUSBURST -SP-
[pro-player width='530′ height='253′ type='video']http://www.youtube.com/watch?v=EmsS2R_rRIc[/pro-player]
Armed & Gorgeous
[pro-player width='530′ height='253′ type='video']http://www.youtube.com/watch?v=bquUmaBSM9c[/pro-player]
Grooh
[pro-player width='530′ height='253′ type='video']http://www.youtube.com/watch?v=obFCy-14ja8[/pro-player]
VR Mission
[pro-player width='530′ height='253′ type='video']http://www.youtube.com/watch?v=qKXtWrvKN9g&feature=youtu.be[/pro-player]
100 Trials
[pro-player width='530′ height='253′ type='video']http://www.youtube.com/watch?v=4ySvli9n6KU[/pro-player]